Carillion posts solid results for 2015, but profit slides in UK and Canada construction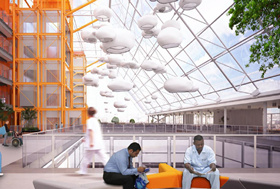 Carillion has posted a dip in construction profit for 2015, in otherwise solid financial results for the calendar year.
Operating profit at Carillion's UK and Canada construction businesses - which the firm reports together - fell 9% to £37.8m, down from £41.5m.
Carillion said the dip reflected a drop in its operating margin to 3% across these businesses, down from 3.8%, which it said reflected the loss of the "temporary benefits to profit from rescaling UK construction activities". It expects this margin to trend back to between 2.5% and 3%.
Carillion's UK construction revenue topped £1bn in 2015, hitting £1.1bn, boosted by major jobs for large clients including Highways England and Argent. In 2014 Carillion clocked up £900m of UK construction revenue.
Carillion also disclosed it took a £5m hit on its investment in the UK's Green Deal Finance Company in 2015, after the goverment's pulled funding for the energy efficiency scheme.
Overall, the Carillion group posted a 9% rise in pre-tax profit for 2015 to £155.1m, up from £142.6m, while revenue jumped 13% to £4.6bn, up from £4.1bn.
Profit increased across Carillion's support services, public private partnerships and Middle East construction businesses.
Carillion amassed new and probable orders worth £3.7bn over 2015, down on £5.1bn in 2014, which it said reflected the impact of last year's UK general election. Its pipeline of contract opportunities however increased to £41.4bn, up from £39.2bn.
During 2015 Carillion reached financial close on the planned £430m Midland Metropolitan hospital (pictured).
Carillion chairman Philip Green said: "Our performance in 2015 reflects the benefits of our consistent and successful strategy, which enabled us to rescale and reposition our business during the economic downturn in order to take advantage of opportunities for growth as market conditions improve.
"With a strong, high-quality order book, a large and growing pipeline of contract opportunities and the financial strength to support our strategy for growth, the Group is well positioned to make further progress in 2016."