Contractor duo join clients in letter supporting EU membership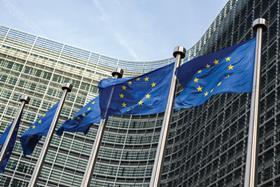 Mace and Carillion have thrown their weight behind the 'remain' campaign to keep the UK in the EU.
Bosses of the two contractors, alongside heavyweight clients including British Land, Canary Wharf Group and airports Gatwick, Heathrow and Manchester Airports Group, have signed a letter to the Times today arguing the UK will be "stronger, safer and better off" remaining in the EU.
The letter is signed by 197 UK business leaders, including just over a third (36) of FTSE 100-listed firms.
Notable by their absence were London stock exchange-listed contractor Balfour Beatty and client Land Securities, which did not sign the letter. Balfour Beatty told Building the firm would not be commenting on the referendum.
Other signatories from other sectors include defence contractor BAE Systems and oil group Shell, but none of the UK's supermarket giants - including Tesco, Sainsbury's and Morrisons - signed up.
The letter comes after a heated debate in Parliament yesterday with MPs bitterly divided on whether the country should remain or leave the EU.
The campaign was energised on Sunday by London mayor Boris Johnson's announcement he would campaign for the UK to leave, putting him at loggerheads with prime minister David Cameron and most of the Conservative cabinet.
Letter signatories from construction and property
Peter Rogers, chief executive of Babcock
Chris Grigg, chief executive of British Land
Philip Green, chairman of Carillion
Stewart Wingate, chief executive of Gatwick Airport
David Atkins, chief executive of Hammerson
John Holland-Kaye, chief executive of Heathrow
Christian Salbaing, deputy chairman of Hutchinson Whampoa
Mark Reynolds, chief executive of Mace Group
Charlie Cornish, chief executive of Manchester Airports Group
Greg Hodkinson, chairman of Arup, signed in a personal capacity