Carillion posts pre-tax profit of £180m, as revenue falls 13% to £4.4bn in 2012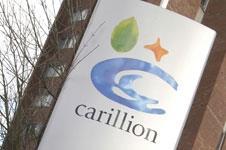 Carillion has hailed a "robust financial performance" in its full year results for 2012, despite a 41% fall in Middle East construction profit.
Revenue for the construction services business outside the Middle East - which includes the UK and Canada - fell 31% from £1.85bn to £1.28bn, although operating profit rose 25% to £72m.
The operating margin in the construction business outside the Middle East jumped to 5.6% - up from 3.1% the previous year.
However, operating profit for Middle East construction fell by 41% to £29m, as revenue fell 14% to £474m.
The overall group, which includes support services, recorded a pre-tax profit of £180m, a rise of 26% on 2011's figure of £143m.
As anticipated, revenue fell further, down 13% to £4.4bn over the period.
Speaking to Building, chief executive Richard Howson said Carillion had a strong balance sheet and £5.2bn of new and probable orders achieved during 2012.
He pointed to continuing good opportunities in Canadian PPP schemes and success in winning road and rail work in the UK.
He also revealed that 75% of new orders are in support services but said that was broadly in line with what was expected.
"We won a huge amount of road maintenance work in Canada in the final two quarters of 2012, which counts as support services work," he said.
Turning to the Middle East, he described the region, and particularly the UAE and Qatar as "slow".
He said: "There is no shortage of opportunity - pipelines are very strong but there is a lot of indecision…in terms of contract awards being placed.
"This [fall in profit] is a result of that indecision but the key point is that going into 2013, we've got over 90% of revenue for this year secured already."
This includes probable orders worth around £210 million for projects in Oman, Abu Dhabi and Saudi Arabia.
In construction services for the rest of the world, the group has secured new and probable orders worth around £160 million, for what it called "long-term public and private sector customers".
Referring to Building's recent feature on the prospects for the top five contractors, Howson said he agreed with analyst Kevin Cammack that "holding the new status quo" was the right approach for Carillion in the current market.
"I thought what Kevin predicted was right - that we would seek to grow [the business] carefully if the opportunities are there," he said.
Howson also said that the ongoing slimming down of Carillion's UK construction business, which accounts for much of the reduction in overall revenue, is now almost finished.
He said: "There may be a slight reduction in 2013 but that is now almost over."
Howson added that Carillion also sees the Energy Company Obligation (ECO) scheme in the UK as a real opportunity and continues to be "selective" in choosing which projects to bid for.