Extensive job cuts likely as contractor blames faltering Green Deal and delays to ECO for £40m restructure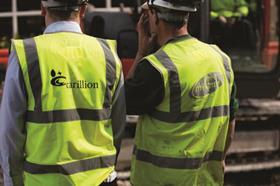 Contractor Carillion has launched a major restructuring of its Energy Services Business due to the faltering Green Deal market.
The contractor said the move was due to a continued slow market for the government's flagship Green Deal programme and its expectation that the Energy Companies Obligation (ECO), which targets works in fuel poor households, "may now be subject to further delays".
Carillion said in a statement this morning it was still assessing the extent of the restructuring required, but that it expected the restructuring to incur "total non-recurring operating charges of some £40m in 2013".
This charge is the same as that recorded when it laid off 1,400 people last year in its Energy Services business following the government's decision to cut the proposed Feed In Tariff rate for domestic renewable power, giving a sense of the scale of today's announcement.
Carillion's Energy Services business is largely made up of Eaga, which was acquired for £298m in 2011.
Carillion has previously alerted the market to the "slow" start to the Green Deal programme, under which government figures show just 12 households have had work completed, but this is the first time it has commented on the impact on its business.
Carillion said: "The slow start to the whole of the Green Deal market, which, together with the delayed start to the Energy Company Obligation (ECO) market, is affecting our revenue expectations from energy services.
"The development of the Green Deal market continues to be slow and ECO may now be subject to further delays. Consequently, we will restructure this area of our business during the remainder of 2013 to ensure that it is aligned in size to the markets in which it operates.
Despite the restructure, the firm said overall profit and earnings were in line with expectations.
It revealed it had a number of major contracts, including a £92m contract by The Oman Hospitality Company SAOC to build the Kempinski Wave Hotel in Muscat, Oman.
In addition it said it had been named preferred bidder on a £100m 10-year contract with West Sussex County Council to deliver its Energy Saving Programme.
Chief executive Richard Howson said he was "delighted" Carillion had been selected on both contracts.