Andrew Davies will replace interim Keith Cochrane at the stricken contractor next April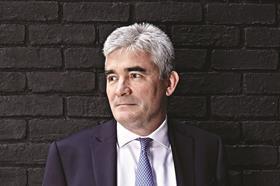 Carillion has turned to Wates boss Andrew Davies to lead the rescue of the country's second biggest builder.
The firm has been without a full-time chief executive since July when former boss Richard Howson stepped down in the wake of Carillion announcing huge writedowns on problem contracts.
Howson was replaced by the former chief executive of engineering firm Weir, Keith Cochrane, who has been carrying out the role on an interim basis since.
Davies (pictured) will leave Wates in two weeks' time but he will have to wait until the beginning of April next year – 20 weeks away – to formally take over from Cochrane.
Top of his in-tray will be to reduce the firm's debt pile which is expected to be around £850m at the year end as well as shoring up its cash position.
This week the firm sold most of its healthcare FM arm to Serco for £50m and announced that it has secured a further loan facility of £140m in addition to the same amount that had been agreed with its five main banks when it announced its results at the end of last month.
Davies has been the chief executive of Wates Group for nearly four years – he took over from Paul Drechsler who had led the firm for nearly a decade – and prior to that held a number of senior roles with defence and aerospace firm BAE Systems over a 28 year period.
Carillion said Davies brings "executive, strategic, turn around and leadership skills to the company as well as experience of complex public sector contracting in projects, support services and construction".
Philip Green, chairman of Carillion, added: "Andrew has the ideal combination of commerciality, operational expertise and relevant sector experience to build on the conclusions of the strategic review and to lead the on-going transformation of the business."
At last month's results, Carillion said it had made a pre-tax loss of £1.15bn for the first half of the year after racking up more than £1bn-worth of provisions, including a previously unannounced £200m hit at its support services business.
Wates said that its chief financial officer David Allen will become acting chief executive pending the appointment of a permanent successor.
James Wates, chairmain of Wates Group, said: "When Andrew leaves, he will do so with the company in a strong position and well on its way to achieving its strategic goal of becoming a sustainably profitable £2bn turnover company."
Who is Andrew Davies?
The 54-year-old has no construction qualifications – starting his career at BAE Systems after gaining a business studies degree from Sheffield University.
He joined Wates in January 2014 from the aerospace group where he was in charge of the firm's maritime business and previously held roles including group strategy director and managing director of land systems at the FTSE 100-listed firm.
At the time of his appointment to Wates, the chief executive of one rival main contractor, said: "He's very bright, he's hugely experienced, and altogether very impressive."
A few months into his job at Wates, Davies, who won last year's chief executive of the year award at the Building awards, admitted: "The competitive environment is very different. No doubt about that. Construction is a very, very competitive sector at all levels."