But more than 7,500 jobs have been saved since firm went bust five weeks ago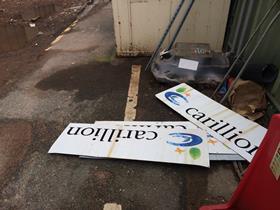 More than 1,000 Carillion employees have been axed since the company went bust last month.
An update from the official receiver confirmed another 152 employees had lost their jobs, while another 942 workers had had their jobs safeguarded.
To date 1,141 jobs have been made redundant, while 7,610 jobs have been saved.
A spokesperson for the official receiver, which is sifting through Carillion's contracts for the Insolvency Service, said: "As a result of agreements entered into over the past week to purchase contracts held by Carillion ongoing employment has been confirmed for 942 employees. Regrettably 152 employees are being made redundant and they will leave the business later this week.
"Discussions with potential purchasers continue and I expect that the number of jobs safeguarded through the liquidation will continue to rise. I am continuing to engage with staff, elected employee representatives and unions to keep them informed as these arrangements are confirmed."
The latest redundancy figures come days after the Insolvency Service announced to had set up a specialist team to reduce the red tape axed Carillion workers were facing.
In a statement it said: "All employees of the group will be eligible to make a claim for redundancy, including those transferring to new suppliers.
"We have established a specialist team spanning both the Redundancy Payments Service in the Insolvency Service and the company's HR department to process these payments as quickly as possible. You should expect receive the information you need to submit your claim within seven days of being made redundant or transferring to a new employer.
"As a result of the systems we have established to prioritise these payments we are aiming to pay your claim quicker than our agreed 14 day target."
This announcement followed concerns raised by the Labour MPs in charge of the inquiry into Carillion's collapse about ex-Carillion employees facing delays claiming redundancy and statutory notice pay.
In a letter to Insolvency Service chief executive Sarah Albon, business committee chair Rachel Reeves and her counterpart at the work and pensions committee Frank Fields, said former employees of the failed contractor had written to them about the red tape they had been facing.