Contractor handed pre-Christmas boost after banks give it extra time to sort out finances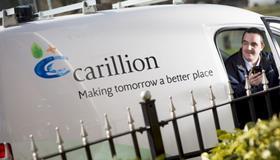 Carillion has been given more time by its banks to fix its finances as the firm said it expected to finalise a rescue package in the first three months of next year.
The company was set to breach its banking covenants this month but they have now been deferred to the end of April.
The country's second biggest builder said it was continuing discussions about how to reduce its debt – which the firm said last month it expected to be north of £900m – as well rescue its finances with a recapitalisation plan.
In a Stock Exchange announcement this morning, the firm said: "These discussions are progressing well and the board still expects to determine the approach and to commence steps to implement the chosen option during the first quarter of 2018."
Interim chief executive Keith Cochrane added: "We believe that our lenders' decision to defer the test date demonstrates their continuing support. We remain focused on actively progressing a constructive dialogue with our financial stakeholders on the group's recapitalisation plans."
The news comes 48 hours after the firm said its new chief executive will start his new job 10 weeks earlier than expected.
Andrew Davies had been set to begin his new job on 2 April but staff were handed a morale boost earlier this week when the firm said the former Wates boss would be at his desk on 22 January.
This has prompted some to raise hopes that Carillion might have a refinancing package in place as early as next month.
Cenkos analyst Kevin Cammack said: "The previous April start date in my view was not co-incidental to the extension of banking facilities agreed by Carillion and thus the time by which the group would need to complete a major re-financing doubtless including a large debt-for-equity swap.
"I would have expected someone of Davies' experience and calibre to want to see the group on a known, sustainable financial footing to even be attracted to the job. My interpretation of this announcement [Davies joining earlier] is therefore that, at least in principle, Carillion will have its re-financing in place by 22 January."
Davies will take over from Cochrane who has being doing the job since former boss Richard Howson was shown the door in July in the wake of the firm announcing an initial writedown of £845m which has since risen to £1.1bn.