Bosses at railway say they are happy with Kier and Eiffage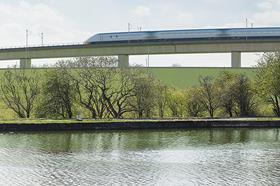 Bosses at the HS2 railway have said they are not expecting the joint venture team that included Carillion it awarded tunnelling contracts to last summer to go out and find a replacement builder.
A team called CEK which featured the collapsed contractor, along with Kier and French firm Eiffage, which has carried out work on the Channel Tunnel and the Foster & Partners-designed Millau Viaduct in southern France, was awarded two contracts to dig tunnels in the Chilterns on the line between London and Birmingham.
A source said: "The whole point of joint ventures is they give you extra robustness. It's why we encourage them in the first place."
He added that HS2 is confident Kier and Eiffage will be able to carry out the work between them and said it would need to approve the appointment of a contractor lined up to replace for Carillion.
Called lots C2 and C3, the work, which was awarded a week after Carillion announced a shock £845m writedown last July, has a 16 month design phase with building work expected to start next year and take up to five years to complete including testing and commissioning work.
A HS2 spokesperson said: "The CEK joint venture has provided HS2 Ltd with assurances that in the event of any member of the group being unable to deliver on its responsibilities, the remaining members, now Eiffage and Kier, would fill the gap. HS2 Ltd does not hold a direct contract with Carillion." Work will continue as planned, he added.
A Kier spokesperson said it was "highly unlikely" Carillion would be replaced. Earlier, the firm said it had put in place contingency plans for the project.