Galliford Try boss says handing shareholders returns as deficits soared was 'toxic'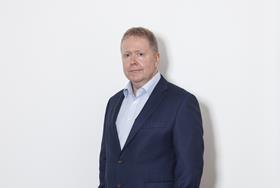 The chief executive of Galliford Try's construction arm has questioned why Carillion continued to pay dividends as its debts and pension liabilities mounted.
Bill Hocking was speaking as Galliford Try said it was cutting its interim dividend from 32p a share to 28p and planned to raise £150m in new equity after problems on its scheme to build a bypass around Aberdeen increased "the group's total cash commitments on the project by in excess of £150m".
Carillion was carrying out work on the 58km long road for Transport Scotland in joint venture with Galliford Try and Balfour Beatty when it went bust.
Hocking (pictured) said its former partner's collapse last month "was a real shock" and admitted: "I met with some of the Carillion guys in Glasgow a few days before [it went bust] and there was absolutely no sign whatsoever. They thought they were going to be OK as well. The Carillion guys [on the Aberdeen project] are honourable, good people."
But he had more critical words for the firm's senior management and the decisions they took. "When you look at it in the cold light of day, debt and pension deficit was rising, they were taking on risky jobs and they were still paying out dividends – it's a toxic mix."
In its 2016 annual report, Carillion's former finance director Zafar Khan boasted how "the board has increased the dividend in each of the 16 years since the formation of the company in 1999". In total, Carillion paid out more than £770m in dividends to shareholders.
Earlier this month at a parliamentary hearing into Carillion's collapse, held jointly by the business and work and pensions select committees, MPs berated former executives for continuing to pay out dividends while the pension deficit increased.
Rachel Reeves, business select committee chair, told interim chief executive Keith Cochrane: "The fact that you were paying more out in dividends than you were paying into a pension fund that had a deficit at the end of probably £900 million shows that the priority was dividends."
Hocking said clients expecting his business to take over Carillion contracts without running the rule over them needed to think again. "We will tread very, very carefully here. If [Galliford Try taking over is] needed to keep the job going, we will only do it on a cost-plus basis. We are not going to buy risk."
The firm has taken on a Carillion job to build a bypass around Lincoln and was looking at a handful of other schemes that were in their infancy.
But he said he was giving Carillion's jobs building new PFI hospitals in Liverpool and Smethwick a wide berth. "We are not going anywhere near those," he added.
According to a business recovery plan published days before it went bust, Carillion said it was expecting to rack up a further £143m in losses on the two jobs by 2020.
THE ROAD TO HELL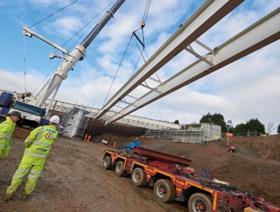 Hocking said he is hoping up to 80% of the Aberdeen road, known as the Aberdeen Western Peripheral Route, will be opened by May.
The firm has been forced to book a £25m exceptional charge on the job, in addition to the blowout it announced last May when the firm said it was taking a £98m hit on legacy construction jobs.
Following Carillion's collapse, Galliford Try and remaining joint venture partner Balfour Beatty said they were obliged to bridge their former partner's funding shortfall which they said is expected to be up to £80m.
The pair have since taken on more than 50 of Carillion's staff working on the job.
The key remaining part of the scheme to be completed is a bridge over the river Don which Hocking said would be finished in June.
Transport Scotland has said the road will fully open in summer – although this is expected to be late summer.
The £550m PFI deal was due to have finished by last November but has been hit with problems over ground conditions, escalating costs of utility diversions and adverse weather. At the end of the 2015, parts of the site were flooded following the worst rains in the region for decades.
Hocking admitted getting the weather to play ball was his number one hope. "If the weather co-operated, it would help us a lot."
Its problems on Aberdeen have meant the firm has called time on fixed price lump sum schemes and Hocking said Galliford Try will not be bidding upcoming PFI schemes such as the Silvertown tunnel, the Lower Thames Crossing and the Stonehenge tunnel. "PFI by default is a mega, lump sum fixed price contract and we're not doing that."