Developer Quintain pulled out of talks with Carillion last year due to concerns over its ability to continue trading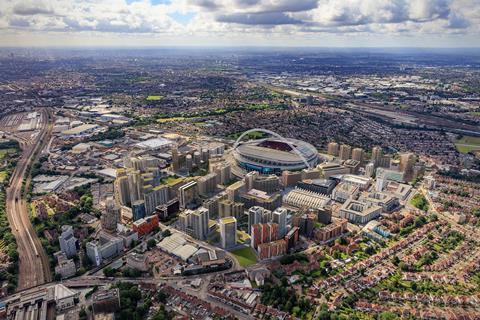 Quintain has awarded McAleer & Rushe a £130m contract to build a slew of new homes at its 85-acre development around Wembley Stadium after terminating talks with Carillion last year as its financial troubles mounted.
The developer and Carillion had been in discussions regarding the contract for the second phase of the South West Land buildings by Wembley Stadium in north west London when the firm issued its first profit warning in July.
In that profit warning Carillion revealed that it was to take an £845m hit from three PPP contracts and its overseas work.
The contractor, which went bust last week, was one of four main contractors to get onto Quintain's framework to build its mixed-use scheme which includes 7,000 new homes. The framework is supplemented by other contractors such as McAleer & Rushe and O'Keefe.
"We were concerned that the level of loss declared along with the huge pension deficit, would seriously impact Carillion's ability to continue to trade and garner the support of the supply chain, increasing the likelihood that our cost and programme objectives would not be met," Matt Voyce, construction director at Quintain, said.
"We therefore took the view that we would not proceed into contract upon the completion of Carillion's pre-contract commission and commenced discussions with McAleer & Rushe, whom we have now successfully contracted with," he added.
McAleer & Rushe under the new contract will deliver 553 new homes, which make up the second phase of the South West Lands buildings by Wembley Stadium.
From this, 114 will be affordable and the remaining 439 will be rental homes managed by Quintain's wholly-owned build to rent operator, Tipi.
McAleer & Rushe is already building phase one on a £55m contract, which involves 190 homes and is due to complete in the third quarter of next year.
The South West Lands buildings will also house a gym, library, resident's lounge and concierge service leading out to a podium garden.
McAleer & Rushe is also delivering the 312-bed Premier Inn hotel at the site, which is due to complete this summer.
This latest contract award is part of Quintain's push to have 3,000 homes under construction by the end of the year.
The developer – bought by US investor Lone Star over two years ago – has said it will build more homes for rent than sale with 5,000 of Wembley Park's 7,000-plus units to be put up for rent.
The firm, which has already spent £1bn on the development of Wembley Park, is also planning to invest another £2bn over the next five years and has said construction expenditure has been costing £1m a day.
Eamonn Laverty, chief executive of McAleer & Rushe, said: "The signing [of the contract] reinforces our position as one of the leading design and build contractors in the High End Residential and Private Rented Sector and we look forward to further involvement in the wider Wembley Park masterplan."
In November, Quintain confirmed that John Sisk & Son had been awarded the largest contract to date at the development. The £211m contract will see the firm deliver 743 new build to rent homes at Wembley Park.