Firm is to build 743 build to rent homes at Wembley Park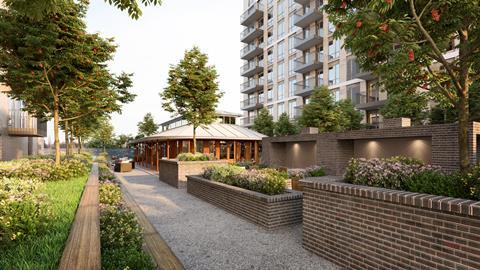 Wembley developer Quintain has confirmed the award of a £211m contract to John Sisk & Son for the construction of 743 new build to rent homes.
The largest scheme to date at Quintain's 85-acre development around Wembley Stadium in North West London will comprise seven buildings and is Sisk's ninth project at the site.
Of the 743 new homes to be built, 303 will be London Housing Bank equivalent units and will be rented at no more than 80% of market value, including service charges.
Once complete in 2020 the homes will be managed by Quitnain's rent business Tipi.
The project, which is to be called Canada Gardens, will feature a play area and new park, as well as a special dog walking area and pet garden.
In addition, the scheme will have a roof terrace and residents will have access to a club house, BBQ area, allotments and a one acre podium garden.
Canada Gardens is part of Quintain's push to have 3,000 homes under construction by the end of the year.
The developer – bought by US investor Lone Star over two years ago – has said it will build more homes for rent than sale with 5,000 of Wembley Park's 7,000-plus units to be put up for rent.
The firm, which has already spent £1bn on the devleopment of Wembley Park, is also planning to invest another £2bn over the next five years and has said construction expenditure has been costing £1m a day.
Angus Dodd, chief executive of Quintain, said: "Sisk has delivered eight successful projects to date at Wembley Park and has been a trusted partner for 12 years.
"The Canada Gardens development will be a fantastic new collection of purpose built rental homes which will appeal to families, couples, sharers and single people both young and old."
John Sisk & Son chief executive Stephen Bowcott added: "We have used our previous experience over the last 12 years working with the design teams to drive efficiencies in to the project. We always look to add value to the design process with our early input."
Sisk is a member of Quintain's main contractor framework along with Wates, McAleer & Rushe, McLaren and O'Keefe.