Keith Cochrane revised number up by £150m just days before City announcement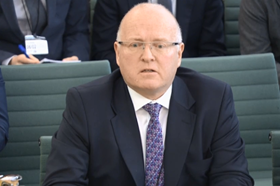 Carillion's last chief executive has told MPs the reason why he decided to increase last July's writedown by £150m.
Keith Cochrane was in charge of the business when it went bust earlier this year and in one of his first decisions as the incoming interim chief executive decided to up a planned writedown of £695m to £845m just days before it was due to be announced to the Stock Exchange.
The eye-watering figure saw confidence in the firm nosedive with the number catching many in the industry off-guard. "A number of contractors have had writedowns but nothing that big," Skanska's UK chief executive Greg Craig told Building earlier this month.
Cochrane was asked by MPs to explain why he increased the number by more 20% following his appearance in February in front of the select committees looking into Carillion's collapse.
In recently released correspondence, Cochrane (pictured speaking to MPs) said he felt "the provision should reflect a more pessimistic assessment rather than a 'likely worst case' assessment".
He added: "The £695m provision was premised on the then-assessed 'likely worst' scenario and was proposed to be split between an impairment provision against receivables of £449m and a future cost provision of £246m.
"My starting point was that we needed to ensure that the provision that we made materially derisked the contract position. In order to do this I felt that the provision should reflect a more pessimistic assessment rather than a 'likely worst case' assessment.
"On the basis of the information drawn out in the contract review, I considered that an additional £150m provision would achieve this."
In his letter, he told MPs from the work and pensions and business select committees the shock of the £845m writedown would hamper the firm's efforts to bring in what it thought it was owed on jobs "because the effect of the announcement itself and the fact that the group was seeking to exit from certain key markets meant that it would inevitably become more challenging to collect cash (by reason of the Company's perceived loss of leverage)".
Among the jobs which blew a massive hole in the firm's accounts were its schemes to build hospitals in Liverpool and the West Midlands and a road scheme in Aberdeen it was carrying out with joint venture partners Balfour Beatty and Galliford Try.
According to a National Audit Office report into the government's handling of Carillion's collapse published earlier this summer, the three jobs racked up a £222m loss for the bust firm last year alone.