Business lobby joins calls for VAT cut as part of £2.2bn budget wishlist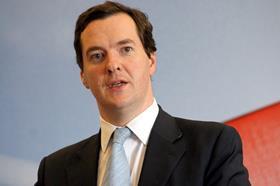 The CBI has called for chancellor George Osborne to reduce VAT on refurbishment work as part of a £2.2bn package of measures to boost construction in next week's budget.
The business lobby group said it was backing industry calls for a reduction of VAT on repair and refurbishment work, which it said would cost the exchequer £500m but create 80,000 jobs.
The CBI said it was calling for "modest package" of policy measures including an extra £1.25bn to be spent building 50,000 affordable homes and a boost to the government's existing NewBuy and FirstBuy programmes for home buyers.
In addition the CBI's wishlist includes £450m of tax changes, including measures to harmonise taxes upon investment in infrastructure schemes in order to boost finance for major projects.
The group said the package of measures could be funded from efficiency savings on current expenditure programmes or by the sale of public assets including land.
Further measures called for include the transfer of all surplus public land to the Homes and Communities Agency to be sold for housing schemes, and the extension of the government's UK Guarantees programme to support private sector housebuilders.
Rhian Kelly, director of business environment at the CBI, said the call to cut VAT on refurbishment was the first time the CBI had backed the long-standing construction industry desire to see the tax reduced. Currently VAT is not levied on construction work for new-build housing, but is levied on refurbishment schemes. She said: "There are a number of ways to boost that sector, but a VAT cut is certainly one we're backing."
Building's Green for Growth campaign, which the CBI has supported, calls for the government to introduce "structured tax incentives" to boost domestic refurbishment.
However, the business lobby group held back from recommending the government borrow more money to invest in capital projects, despite the fact it could do so without breaching the chancellor's primary fiscal mandate.
Kelly said: "Our construction members remained convinced that fiscal consolidation is essential if the UK is to get on the right track – but they want measures to talk up growth."
CBI chief policy director Katja Hall said business "confidence" was the key missing ingredient in the UK economy, and admitted that progress on the government's strategy of infrastructure investment had been "disappointing". However, she said the CBI was simply asking the government to redouble its efforts to deliver on existing policies.
The government has identified 40 priority infrastructure projects that it wants to drive forward in order to boost growth. Hall said: "We want the government pick four or five of these projects in order to focus the mind. Forty is a lot of priority projects to have."