Chancellor pressured to support beacon infrastructure construction projects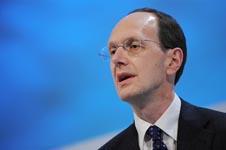 The head of the Confederation of British Industry has urged the chancellor to fast-track beacon infrastructure projects in an "industrial Olympics".
John Cridland, director-general of the CBI, told the Guardian that Geroge Osborne should include three or four symbolic schemes to be given priority in next month's autumn statement.
He said: "We need a blueprint for delivery. There has been a lack of momentum. What is needed is for the government to fast-track three or four industrial Olympics and ensure that they are on time, on spec and fit for purpose."
He highlighted new nuclear power stations, the Thames Tideway tunnel, the A14 toll road and the Northern hub rail network as suitable projects.
He said the chancellor should conjure-up the spirit of US president John F Kennedy to galvanise the desire for progress. He told the Guardian: "Kennedy said at the start of the sixties that America would put a man on the moon by the end of the decade and it did, even though sadly Kennedy was not around to see it. We need the sense that we are just going to do these projects."