City development activity down 11% but West End sees an uplift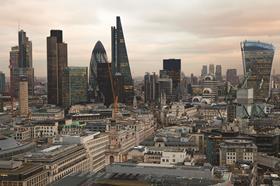 The construction of new offices in London has fallen 9% to 12.6m ft2 for the period from a April to 30 September compared to the previous six month measure.
This is according to the latest London Office Crane Survey by Deloitte Real Estate, which measures the volume of office development taking place across the capital.
It revealed 25 new office schemes started construction, adding 1.8m ft2 into the development pipeline, but this is the lowest amount of new space started in over three years and 21% below the crane survey average.
In the City, development activity was down 11% to 7.3m ft2. Just eight new schemes started in this period, covering 804,000 ft2 – down from the 1.1m ft2 average. But this reduction follows 3.4m ft2 completing in 2017 thus far, which is the highest volume to complete in the City since 2000.
Despite the reported slowdown, the West End has witnessed an uplift in activity, with 14 new schemes spanning 657,500 ft2 starting construction – the highest number of new starts recorded in a single crane survey for this submarket.
Alongside this, there is now 1.4m ft2 being built here – up by a fifth since the last survey.
Shaun Dawson, head of insight at Deloitte Real Estate, said: "Developers in central London continue to take stock of the current market dynamics recognising a number of disrupting factors such as costs, Brexit uncertainty and the pace of workplace change.
"We're seeing a continued shift in timings for proposed schemes. With almost static levels of demolition hovering around 8m ft2, developers are showing some caution on where and when to deliver schemes to market."