Camden Council slams bolt-on station plan as not ambitious enough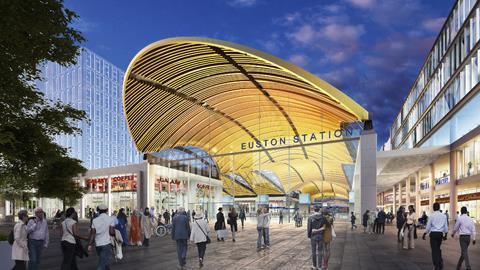 HS2 has revealed controversial £2bn plans to extend Euston station to accommodate platforms for high-speed services to Birmingham and the North.
The plans - which will now be considered by Parliament - will see up to 11 new platforms built in a bolt-on building to the west of the existing Euston station.
The proposals fall short of a comprehensive redevelopment of the whole of Euston station - estimated to cost up to £4.5bn - which is favoured by Camden Council and has previously been backed by the Chancellor, George Osborne.
Camden Council immediately criticised HS2's proposal, warning it would "bring more than a decade of blight without any benefit to London unless there is a commitment to the redevelopment of the entire Euston station and a joined up approach to the delivery of station proposals".
However, HS2 said its own scaled-down proposal could be achieved within HS2's existing £24bn funding envelope for phase one.
Euston development director Rupert Walker confirmed to Building that Arup is the designer working on the latest Euston proposals, and said HS2 will look for a detailed design consultant next year.
Responding to criticism of the plans to exclude the existing Euston station from the development plans, Walker said: "It's a matter for Network Rail and the government.
"Our proposals allow for a HS2 station. While we start with HS2, Network Rail can get approval and funding and deliver their part of the station."
The plans also include improvements to Euston's London Underground station, which will see a subway built to connect to Euston Square and also include a new ticket hall.
Under HS2's plans, six platforms will be built to accomodate phase one services from 2026, with a further five to be built to accomodate phase two services from 2033. All 11 will be built at a lower level that Euston station's existing platforms.
Walker said the plans will cost just over £2bn. However, the £2bn excludes land and property.
He said: "By delivering it in several stages, we are much better able to manage the disruption and impacts associated with this project, in a more effectively way than we were previously able to."