UK infrastructure set to be boosted by investment from the East, according to new report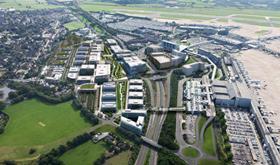 The UK could be boosted £105bn of Chinese investment in infrastructure by 2025, according to a report.
The report by law firm Pinsent Masons, published today, forecasts China will plough the most investment into the UK energy sector, at £43.5bn, followed by real estate (£36bn) and transport (£19bn).
The report also predicts a rise in joint ventures between UK and Chinese companies over the next decade.
Richard Laudy, head of infrastructure at Pinsent Masons, said: "As the need to modernise UK's major infrastructure gets greater by the day, the projected influx of Chinese investment into UK infrastructure is expected to be a welcome boost to the construction industry in particular and UK economy as a whole.
"As a foreign investor China is going to become increasingly important for UK infrastructure by 2025. This means UK-China partnerships need to grow over the next decade."
Recent joint ventures between UK and Chinese firms include Manchester's Airport City, London's Royal Albert Docks development, and One Nine Elms, also in the capital.