There's an upbeat mood in this year's Top 150 consultants survey with strong growth and jobs being created. It's now just a matter of finding the staff to keep it going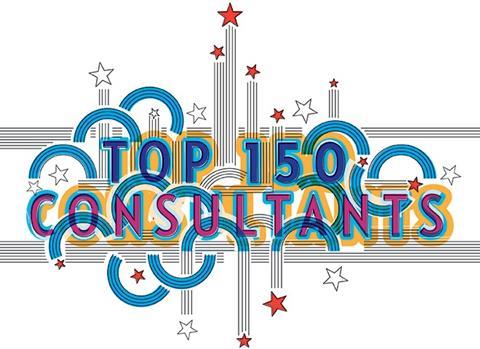 This year's Building top consultants survey paints an encouraging picture of practices working in an economy which has definitively turned a corner, and where the London-centric growth of 2013 has broadened into an upturn affecting most parts of the UK. This is no surprise, in a construction economy which is now forecast to grow by 4.7% this year overall, far higher than originally expected.
Welcome though this is after six long years of recession and low growth, it does bring its own problems. Talking to consultants who sit in the Top 150, it's clear there are already signs of overheating in the market, particularly in London and the South-east, with clients looking to develop elsewhere in order to secure acceptable returns. The pace of growth is therefore creating its own headaches, with many consultants now having difficulty finding the experienced staff to service the workload they see coming. Given the number of qualified people who left the industry during the downturn, this should come as no surprise. The question for architects, surveyors and engineers alike, is how to navigate this optimistic but potentially risky period, given the lack of any significant increases in fee levels.
The trends in the market are clear from the survey data provided by the Top 150 consultants. These show the number of chartered staff employed by these firms in the UK has risen by 7.6% to over 32,000. At the same time the total number of staff employed in the UK by these firms has grown by 11%, and is now topping 68,000 people. Likewise fee income has increased, from £4.6bn to £5bn. Just 4% of firms said they have seen margins reduce in the last year, compared to more than half saying they are rising. Most encouragingly for employees are the figures on planned expansion and salaries: 87% of firms say they plan to increase staff numbers in the coming year, and a similar number - almost nine out of 10 - say they have put salaries up in the last year.
Many practices identify private commercial work and private housing - in particular student housing - as the hot sectors driving improvement, while public sector work outside of education remains subdued. David Hunter, chairman of 250-strong Bristol-based architect Stride Treglown, which is this year planning to take on around 50 part 1 and part 2 architecture graduates, sums it up: "There's very much less concern now over where the next project's going to come from."
Geographically, 2014 has been the year in which the recovery spread from London to the rest of the UK. Derek Pitcher, Europe MD at QS Sweett Group, says: "Last year I was saying there were signs of improvement outside London. But now everyone in the market is saying the regions are beginning to move, with our Manchester office particularly busy."
Furthermore, with the consolidation of the larger players seen in recent years seemingly continuing, through planned mergers between Aecom and URS, and Hyder and EC Harris/Arcadis, smaller firms say the growing scale and shifting focus of this top tier of players is creating opportunities further down the food chain.
The pick-up in work opportunities will have added to the impact of this trend, with bigger firms less likely to have to chase smaller work to fulfil turnover targets. Phil Jones is senior partner at 29th-placed player Ridge, which has grown by around 20% in the last year, adding nearly 40 chartered staff, and which is looking to grow by a similar amount in the next year. "Inevitably there is some fallout from the big deals that have been made," he says. "It means those firms tend to work at a certain level, concentrating on global corporations and major infrastructure programmes. So opportunities open up for us and other smaller firms to find work."
However, despite this improvement in workload, practices say the scales haven't totally tipped in their favour away from clients, with competitive bidding keeping fee rises modest, even if widespread. With overall construction costs rising, those consultants being paid on a percentage basis of construction cost have seen some consequent uplift in payment, but many say they aren't yet able to demand an increase to the percentage itself.
There's probably 100% employment in the sector, meaning recruiting people is about trying to attract them in from another firm

Phil Jones, Ridge
Ridge's Jones says: "We're getting some improvement in fees, and some clients are looking a bit more at the service they can get from us, not just the price, but it's not that much at the moment. It's competitive still." With some firms from less buoyant parts of the economy still prepared to undercut others in London and the South-east, Stride Treglown's Hunter agrees: "Clients are used to us delivering at a certain price. We're trying to improve margins but it remains very competitive."
So with clients wanting more work done, but at similar fee rates, the biggest issue for many consultants has become their ability - or lack of ability - to recruit and train and retain the necessary staff, and the pressure this puts on costs. Alan Davison, head of building surveying at 100-strong surveyor Pellings, says a particular pinch point is around young chartered staff with two to four years' experience, those who would have graduated into their first jobs during the downturn. "Now the projects are there, but it's the staff that's become a problem. People with three years' experience just aren't around, because when they qualified they couldn't get the jobs they expected and took their degrees and are now doing something else. These people are great job-runners, and they're the future directors," he says.
Another pinch point is BIM skills. Even Mark Thompson, managing partner at Ryder Architecture, who says the firm's reputation as a good employer (it was the highest ranking architect in the Sunday Times' 100 Best Employers' list) means it has not in general found it difficult to recruit, says this area is a problem. "People are going out and paying ridiculous money for anyone who can talk about BIM. Often clients are asking for skills and experience that don't exist."
These points are echoed by Ridge's Jones: "There's probably 100% employment in the sector, meaning recruiting people is about trying to attract them in from another firm," he says. "We're very mindful that in order to keep the numbers up we have to do the right thing in terms of salary and benefits." This is driving salary inflation as firms attempt to parade themselves in front of potential applicants. Hunter says he's heard of architects who are promising six-monthly salary reviews in order to keep staff happy. Seven out of every 10 firms in the Top 150 say they plan to raise salaries again next year. With staff both the biggest cost and principle asset of consultants, wage growth is putting pressure on bottom lines. "We're trying to improve margins. But a lot of projects are moving at a rate of knots and with the efficiencies we've had to make in the recession there's not much margin if someone leaves when you're on a project. It's driving salaries," says Hunter.
Practices are attempting to find ways around this impasse. Graduates are once again highly sought after, with Jones saying most are getting picked up early, often by the biggest players in the industry. Sweett Group's Pitcher says the firm has had success taking on apprentice surveyors as well as graduates. Sweett is also considering staffing individual jobs with non-permanent project staff for the first time, and is focusing a lot of attention on staff retention. "We're bringing graduates and apprentices in. At first, some people in the business didn't want to use the apprentice surveyors, but now they've come in, to a man they've been very impressed with their quality and their drive," says Pitcher.
Stride Treglown is responding in part by attempting to raise the quality of its training - including by setting up job shares with engineering firms - and by expanding an existing arrangement under which it outsources drawing work to Vietnam. Hunter says Stride Treglown has brought the Vietnamese staff over to learn from the business in the UK, in order for them to understand the business better, and ultimately become able to take on more work.
As this skills problem worsens, it is causing some firms to consider how quickly they will be able to expand. While Hunter says his firm's partners have been "debating the extent to which we can now become more selective" over the work it bids for, for Pellings' Davison it is much more clear cut. "It'd be great if I could expand and expand to meet the workload, but it wouldn't be easy. We're having to look very carefully, and we've been looking at limiting it to 10% year-on-year growth, slowing it down a bit to ensure we can get the quality staff to do the work."
If the improvement in the construction economy continues, it will only be a matter of time before clients will have to look at how much they are paying the consultants that advise on projects. That will be a genuine improvement for 2015.
Methodology and notes
Barbour ABI, provider of construction intelligence services and Building sister company, contacted more than 500 firms for this year's Building Top Consultants' Survey. They were sent a survey form asking for details on the number of chartered staff, non-chartered and technical staff, and domestic and worldwide fee incomes. Firms are ranked according to total UK chartered staff, and for QSs, architects, engineers and project manager by chartered staff in each respective discipline. The QS table does not include comparative rankings because we have ranked this by chartered QS staff this year; last year firms were ranked instead by total chartered surveying staff. Practices were also asked questions relating to: staff recruitment, wage patterns, margins, areas of work, and work expectations.
The survey relies upon firms completing and returning the annual survey form. For a variety of reasons firms sometimes decide not to take part. Only those firms that complete and return the survey form are included in the survey. Firms with any questions about the survey, or that wish to be included in the 2015 survey, should contact Barbour ABI (www.barbour-abi.com or by email to info@barbour-abi.com).