Scarborough Group secures funding for three major projects during Chancellor George Osborne's China trade mission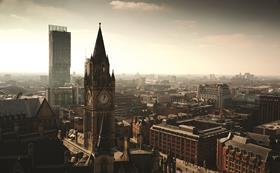 Scarborough Group has secured Chinese funding to help kickstart £1.2bn of projects across Manchester, Leeds and Sheffield.
The Northern developer announced a funding tie-up with Hualing Industry and Trade Group during Chancellor George Osborne's trade mission to China.
The three projects are:
Middlewood Locks, a £730m residential project in Manchester incorporating 2,000 residential units and circa 750,000 square feet of commercial accommodation
Thorpe Park, a £400m mixed-use project in Leeds
Sheffield Digital Campus, a £40m commercial and office development which will build 130,000 square feet of office space in the city
Kevin McCabe, chairman of Scarborough Group, said: "We are delighted to join the Chancellor on this historic visit moreover we appreciate the invaluable support of the UK government in helping us to create closer global business links.
"As a family business with its roots in the North of England, we are now very proud to bring our partners in China to the UK to invest in our great Northern Cities and to accelerate the development of our major projects in Manchester, Leeds and Sheffield."