Beijing Construction Engineering Group agrees to invest in Manchester's £800m airport city development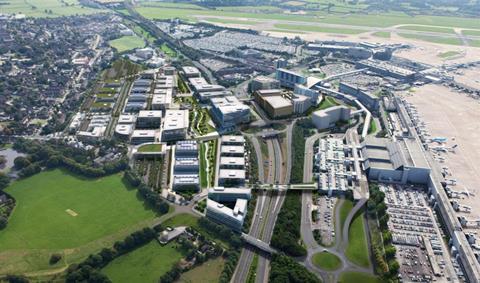 Chinese construction giant Beijing Construction Engineering Group (BCEG) has agreed a deal to invest in Manchester's £800m airport city development.
BCEG will join forces with a consortium comprising Carillion and the Greater Manchester Pension Fund to build the project, with Argent acting as development manager.
BCEG's backing for the scheme, which is one of the largest regeneration schemes in the UK since the Olympics redevelopment in east London, was announced by the chancellor on a trade mission to China yesterday.
George Osborne welcomed the investment at the launch of the Manchester-China Forum at Beijing Airport, the new business-led body set up to promote ties between Manchester and China.
The scheme comprises 5 million sq ft of development, including offices, hotels, advanced manufacturing, logistics and warehousing, with an estimated value of £800m.
The consortium will start work immediately and the project is scheduled for completion over the next 15 years.
Carillion expects to invest up to £12m of equity in the development, as well as delivering up to £580m of construction work.