ABP China agrees deal to create 35-acre business park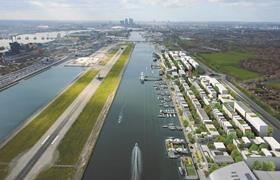 Chinese developer ABP China has agreed a £1bn deal to transform Royal Albert Dock in east London into a 35-acre business district focussed on attracting Asian businesses to the capital.
ABP China is working with UK developer Stanhope and masterplanners Farrells on the project and has committed to developing a minimum of the 600,000 sq ft first phase.
The Greater London Authority (GLA) – which owns the site – said there had already been "strong interest" in the office space from Chinese companies, particularly banks.
The GLA estimates the scheme will create 20,000 jobs and will be worth £6bn to the UK economy when complete.
Mayor of London, Boris Johnson, said: "For centuries the waterways of east London were the throbbing arteries of UK trade and commerce.
"This deal symbolises the revival of that great era, continuing the re-invention of this once maligned part of the capital into a 21st century centre of trade and investment.
"Creating a third financial district in the capital, this development will act as a beacon for eastern investors looking west, bringing with it tens of thousands of jobs and billions of pounds of investment for the UK economy."
Chairman of ABP, Mr Xu, said: "I am very pleased and very proud that my company ABP has reached this agreement for the Royal Albert Dock with the Greater London Authority. This project will be hugely significant for both the Chinese and UK economies.
"My vision is to develop a world class international business district which will initially target Asian businesses to help them secure a destination in London, which in China is seen as the gateway to both the United Kingdom and the wider European economy.
"Our plans aim to strengthen trade between east and west, provide new local jobs and deliver benefits for the wider London and UK economy."