Two big development deals are bringing Chinese money into London. But does this signal the start of a flood of investment by China in UK construction?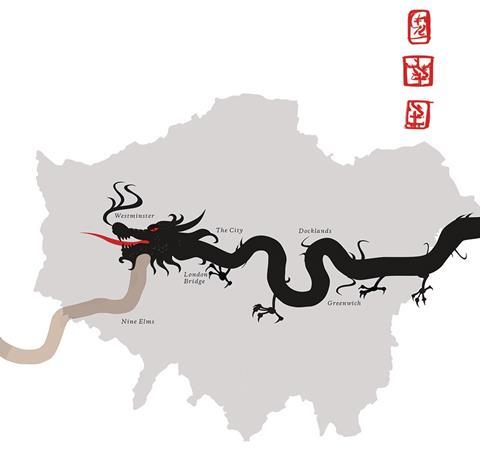 In an unusual break with protocol, the boss of Chinese developer ABP, Xu Weiping, invited consultants and the odd journalist to his north London home earlier this month to celebrate the signing of one of the biggest development deals in London since the Olympics. Winning the rights to build the £1bn Royal Albert Docks development, which is the same size as the Battersea Power Station scheme and of which ABP has promised to have 56,000m2 developed within four years, was quite a coup for the Chinese firm. But it is just one of two major deals backed by Chinese investors in recent weeks.
Last week Chinese conglomerate Dalian Wanda announced it had bought the One Nine Elms site in south London, for a reported figure of £90m, to build two mixed-use towers anchored by a huge 20,000m2 hotel. And with the Chinese government and Chinese firms increasingly looking overseas to invest and make money, some say these deals are just a small sign of things to come. Graham Robinson, director at Global Construction Perspectives, says: "We're on the point of a tsunami of Chinese investment in the UK. This is a very attractive market to them."
The vision of a wave of Chinese money just waiting to rush into UK development schemes is exciting UK contractors and councils who are eyeing the prospect of dusting down stalled sites like the Royal Albert Docks - which lay idle for 40 years. But as these two recent deals, impressive as they are, represent the first significant direct investment by mainland Chinese firms in UK developments, it is not clear how quickly this investment will flow. And if they do presage an influx, Chinese investment may have wider implications for the UK construction industry, with large Chinese contractors and materials suppliers waiting in the wings to benefit.
Fine China
Everyone knows about China's economic success in exporting goods to the rest of the world. This has left it as the world's largest holder of foreign exchange reserves, standing earlier this year at a record $3.4 trillion (£2.2tr). Where this money is invested is the big question for indebted Western governments, who see this cash as part of the answer for their continuing money troubles. So far relatively little has been finding its way into UK companies and projects, while investors in the Middle East and Greece, for example, have been flocking to the security of London property. UK Trade and Investment (UKTI) says that, out of UK development schemes it has been involved in, the recent London deals are the only Chinese direct investment to have been concluded so far.
The Chinese government has been exhorting its own companies, both private and quasi state-backed institutions, to invest overseas for over a decade, through its "Go Out" policy. However, until recently this activity was primarily focused on acquiring mineral wealth from investment in developing countries in Africa and Asia. In the last five years this has changed, with the Beijing government reportedly keen to ensure more of its investment is in politically stable countries. According to data from LaSalle Investment Management and Real Capital Analytics, investment in Europe has risen about twenty-fold, from around €100m (£85m) in 2008 to just under €2bn (£1.7bn) in 2012.
The Chinese government is trying to cool an overheated domestic market. These developers are holding cash and looking for opportunities

Chi Chung Wong, Aecom
Chi Chung Wong, lead for building and places in Asia for consultant Aecom, says both Chinese private developers such as Greentown, Greenland and China Vanke, and state-backed enterprises, are interested in expansion abroad: "They're coming overseas because the Chinese government is trying to cool an overheated domestic market. These developers are holding cash and looking for opportunities."
And of this investment in Europe, the vast majority - 80% in the last five years - has gone to the UK. Matthew Cutts, head of financial institutions at consultant Arcadis, says there are a whole host of reasons why the UK is number one on Chinese companies' lists. "We're seeing a lot more UK-educated Chinese working at development companies, and it makes sense that they want to come back to the UK, to a market they know. There's a sense of understanding of the UK market."
The UK is also seen to have other advantages over its competitor countries for Chinese investment - not least that its market is open to foreign investors, with the government actively seeking financing for an identified pipeline of infrastructure and regeneration projects. To this end Chinese state nuclear companies have been linked with financing for the £10bn Hinkley nuclear power station project.
In addition, Chinese firms can raise capital more cheaply in the UK than from their domestic banks, and have respect for UK architects, engineers and consultants. David Slater, director of international trade and investment at inward investment agency London & Partners, says that with momentum growing, Chinese money could have the same impact in the next decade on the capital as Middle Eastern money has had in the last 10 years. "That is the right scale or comparison to look at. The level of ambition to invest overseas is huge, and London is the preferred location."
Likewise Ice Wang, who runs the China desk in London at estate agent Winkworths, says that investors - individuals and large companies - are interested in development opportunities, not just buying existing properties. "I have had several enquiries from people who are interested in finding opportunities for development joint ventures. They are looking for the right project and profit."
There is also growing evidence that investors that are becoming more familiar with the London market are also starting to look outside the capital, with Chinese-owned investment fund Gingko Tree buying a 40% stake in university accommodation provider UPP Group and a major stake in Manchester office building One Angel Square. Chancellor George Osborne also launched a Manchester-China Forum in April to promote investment in the city. Hanif Kara, director at engineer AKTII, says: "We've been approached to work on a couple of schemes outside of London, and I'm sure that looking at big retail schemes will be the next thing. Chinese investors seem to be interested in larger sites near airports or infrastructure."
How much?
However, while anecdotally the picture is very positive, it is hard to get accurate figures on what level of investment to expect as no official data is collected. While Hong Kong companies such as Hutchison Whampoa and Knight Dragon have been investing for some time, mainland Chinese companies are still a relative rarity.
London & Partners' Slater says he is working on "two or three" further active opportunities for investments in development schemes that are at a serious stage. London mayor Boris Johnson will travel to China in the autumn with the aim of finalising these opportunities, he says. But the opportunity can be overplayed. A source close to the recent deals says the nature of foreign investment means we shouldn't expect a deluge of investment: "There is a lot of hype around China because three to four years ago we weren't seeing any investment and now they are really engaging. But the deals will come through on a piecemeal basis, we're not going to see a flood."
We're on the point of a tsunami of Chinese investment in the UK. This is a very attractive market to them

Graham Robinson, Global Construction Perspectives
However, with work due to start on the Royal Albert Docks scheme within three years under ABP's contract with the Greater London Authority, attention is turning to the impact on UK construction. For consultants that have spent years developing businesses overseas, the move represents an opportunity to reap the rewards of that expansion by bringing work back to the UK from Chinese clients. Richard Steer, chairman at Gleeds, says: "This was always part of the international concept. Chinese investors working in the UK will be much happier choosing us if they're already working with us in a foreign country. It's one of the prime drivers."
Likewise, Aecom's Chi Chung Wong says he is talking to "a few" Chinese developers about how Aecom can support them in overseas expansion plans. Aecom is already working with the China State Construction Engineering corporation on the $3.4bn (£2.2bn) Baha Mar Resort in the Bahamas, reported to be the biggest Chinese-financed property development to be built outside the country.
What may concern UK contractors, though, is the model used to actually build out Chinese-run developments in places like the Bahamas. When working in the developing world, Chinese developers - particularly the state-backed ones - have tended to transport their supply chains, including contractors, wholesale to the new country as far as possible. Chi Chung Wang says: "Where the state bank is involved and the government, then comes the contractor - it's part of the model to recycle the investment, and it can even be part of the funding deal. Chinese contractors have also themselves been known to take equity stakes."
Winkworth's Ice Wang says her experience suggests this is likewise the intention of Chinese developers in the UK. However, while it may be possible to source construction materials direct from China, immigration and visa rules mean it will be very difficult for Chinese developers to import construction teams wholesale from the homeland. But there may be other ways for them to get involved.
Gleeds' Steer says: "I suspect we'll see joint ventures with UK contractors, which from a Chinese perspective is a wonderful way to enter the UK market. We might start to see acquisitions of medium-sized UK or European contractors as well. It will be very interesting to see which companies work on these projects."
So whether or not the Chinese desire to invest signals a threat for UK contractors, it looks like gatherings like Mr Xu's in Winchmore Hill may be about to become a much more common occurrence. Time to dust off your Mandarin.
CHINESE INVESTMENT IN UK DEVELOPMENT
Royal Albert Docks, ABP China - May 2013
One Nine Elms, Dalian Wanda - June 2013
Lots Road and Convoys Wharf schemes, Hutchison Whampoa (Hong Kong) - 2000, 2007
Greenwich peninsula - Knight Dragon (Hong Kong) - June 2012
Earls Court - Kwok Brothers (Hong Kong) - 2011
Royal Albert Docks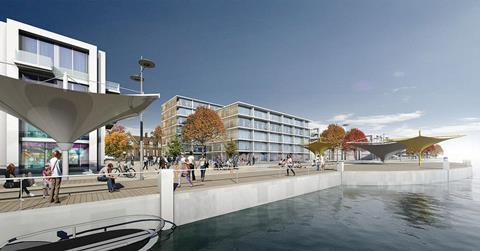 ABP China's £1bn deal with the Greater London Authority (GLA) to transform the Royal Albert Docks has the potential to transform a site that has lain vacant since the eighties.
ABP has set out plans to build an Asian-focused business district on the 35-acre site, creating 20,000 full-time jobs and 3.2 million ft2 of work, retail and leisure space, in collaboration with development manager Stanhope. The developer is working with architect Farrells to put in an outline planning application for the site and a detailed first phase application by the start of 2014. Under the deal with the GLA, the 600,000 ft2 first phase has to have its first occupiers in place by 2017.
Max Farrell, operations director at Farrells, says the scheme will pave the way for others to follow, and can act to increase further investment by being a location for Chinese businesses in the UK.
"It's a trailblazer of a significant investment in the UK and Europe. The Chinese see the UK as a good gateway to Europe, and as a trade gateway the Royal Docks can have a ripple effect," he says.