Thames Tideway Tunnel project attracts attention of Chinese investment funds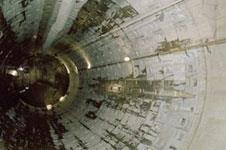 Chinese investors are eyeing a stake in the massive Thames Tideway Tunnel project, the head of the project has revealed.
Phil Stride, head of London Tideway Tunnels at Thames Water, which is developing the super sewer plan, said he had met staff from Chinese investment funds, among other investors, to discuss the possibility of them buying into the £4.1bn project, which involves construction of a 15.5-mile long sewer from west to east London.
In January Chinese sovereign wealth fund the China Investment Corporation bought a 9% stake in the company behind Thames Water, and Stride said investors were now also eyeing the Thames Tideway Tunnel scheme.
There's not enough tunnelling capability for British firms to do this on their own

Phil Stride, Thames Water
Consultant CH2M Hill and Thames Water are developing the detailed proposals for the project, which is controversial because of the disruption tunnelling work could cause in densely populated areas such as Fulham and Southwark.
Stride said the project would seek to make greater use of the river for transport than originally planned, after a public consultation flagged road congestion as a major objection.
Under current plans contractors would be required to bring in just over half the materials for the project by barge, but Stride said up to 70% could now be moved by water.
He said the project needed to show its consultation was genuine and that meant Thames Water had to alter plans if there were widespread objections.
Stride said he expected to put tenders out for the three main contracts for the project, each totalling around £500m, in summer 2013. A series of smaller contracts for enabling works are also due to tendered in 2013.
Stride said he expected firms from all over the globe to bid for the work. "We know there's not enough tunnelling capability for British firms to do this on their own so we want to encourage European firms to be involved."
Correction: This story originally stated that the three main contracts would be tendered in 2014. This was incorrect.