Byrne Group's fit-out firm Chorus posts £9.6m loss after continuation of problem jobs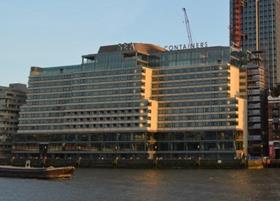 Byrne Group has posted a second pre-tax loss after its fit-out business Chorus continued to suffer on three problem jobs in London.
The group said in its full-year accounts to 31 May 2015, filed at Companies House, that the fit-out firm suffered with the continuation of three legacy projects "beyond periods previously anticipated."
It added that the jobs were now completed, or nearly completed, with the full costs incurred.
In its full-year accounts to May 2014, Byrne said Chorus had suffered "significant delays" on the Sea Containers House hotel and office development on Bankside (pictured), and "encountered significant difficulties with the ground conditions, which created an escalation in costs" on a high-end residential development in Westminster, Buckingham Gate.
The fit-out firm posted a loss of £9.6m for May 2015, down from £15m the previous year.
The group said strategic review of Chorus' bidding strategy is now underway.
Overall, Byrne Group posted a £4m pre-tax loss, down from £12m the previous year.
Group turnover was down to £298m from £349m for the same period last year, despite the group's concrete and building contracting arms – Byrne Bros and Ellmer – posting an increase in both turnover and pre-tax profit.
Byrne managing director Anthony Dowle said in the group's accounts: "Whilst this has been a challenging year, the group is now in position of considerable strength, with opportunities in a London and south east market that have shown substantial growth in demand for our services."