Training board unveiled plans to relocate from its home of more than 50 years as part of radical shake-up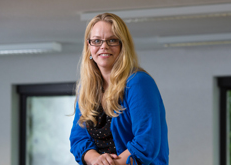 The Construction Training Industry Board (CITB) will meet local authority and industry leaders in Norfolk next month to discuss the future of its Bircham Newton training centre.
The meeting will be chaired by King's Lynn & West Norfolk borough council.
Local MP Henry Bellingham, who has previously condemned the CITB's move out of Norfolk, will also be in attendance.
Attendees will also include CITB chief executive Sarah Beale (pictured), New Anglia Local Enterprise Partnership (LEP) chief executive Chris Starkie, and Morgan Sindall director and chairman of the LEP's Building Growth board Saul Humphrey.
The meeting will look at ways in which training provision can continue at the site and keep as many jobs as possible.
The CITB has been based at its Bircham Newton home since 1966 but within its three-year Vision 2020 restructuring plan set out in November, unveiled plans to relocate from Bircham Newton to new premises in Peterborough.
They are a part of a huge shake-up at the group which will also see the end of direct training and proposals to cut as many as 750 staff from its 1,300-strong payroll.
Beale said at the time it didn't need the 45-acre site anymore, telling Building: "In the future we will be a much, much smaller organisation because we will be delivering less."
Councillor Brian Long, leader of King's Lynn & West Norfolk borough council, said: "We've been working closely with colleagues at CITB to gain a detailed understanding of the Vision 2020 proposals and how they may affect the Bircham Newton site.
"We appreciate the reasoning behind CITB's proposed move away from direct training, which is why we're keen to maximise the potential opportunities for new partners at the site. We're pleased to be hosting this session with the aim of creating a Vision 2020 Taskforce to ensure that all ideas and solutions are geared towards a positive outcome for the future of the site."