Site has been used by scheme's Liverpool Street station job since 2012
Architects have been given until next month to express interest in a plan to give Finsbury Circus gardens a long-awaited makeover following work to build the new Crossrail line.
The City of London Corporation plans to shortlist five teams for the job which will also include reinstating a pavilion.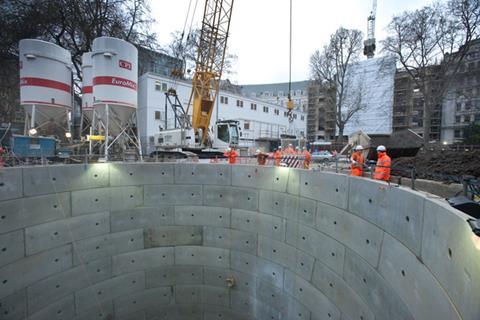 The authority had hoped to begin giving the prestigious 17th century gardens a facelift two years ago but delays to the nearby Crossrail scheme being built by Laing O'Rourke at Liverpool Street forced it to put back its plans.
The gardens have been the location for a 42m deep shaft used by workers to access Crossrail tunnels since 2012.
The work required removing a bowling green and a grade II-listed drinking fountain which will be put back under the proposals.
But with work at Liverpool Street coming to an end, the City of London has now asked architects to team up with landscape architects for the job and wants to hear from teams by 6 July.
The five shortlisted firms will also be given a £1,000 honorarium.
The competition is aimed at smaller firms with architects wanting to bid required to have a turnover of between £550,000 and £1.5m.