Scheme will involve replacing 1960s building with 18-storey office block
David Walker Architects' proposals to redevelop a 1960s office building in the City of London with a much taller steel-and-glass structure are set to be approved next week.
The practice's scheme, drawn up for site freeholder Metropolitan Properites, would replace 11-storey Tenter House, on Moorfields, with an 18-storey structure that almost doubles the existing building's floorspace.
Others working on the scheme include structural engineer AKTII, building services consultant Watkins Payne and project manager Buro Four. JLL is planning consultant.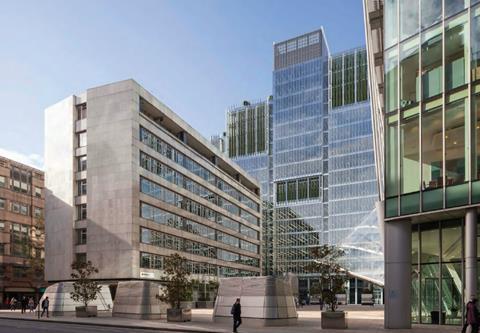 It would be one block from the architect's 112m The Heron, the largest residential tower built in the City for 30 years when it was completed in 2013.
At 88m in height, the new building would deliver 28,806sq m of floorspace – predominantly for office use, up from the current building's 15,465sq m. The new structure would include six roof terraces and four internal winter gardens for the use of office occupiers.
The City of London said David Walker's proposals had attracted opposition from some residents of the nearby Barbican Estate, who voiced concerns over the impact of the roof terraces earmarked for the new building, as well as loss of light from the taller structure.
But recommending the proposals for approval to members of the City's planning and transportation committee, officers said the scale and massing of the new building corresponded to height of Wilkinson Eyre's nearby 21 Moorfields building which was approved in February.