It has teamed with the National Grid and Berkeley Group to build more than 200 homes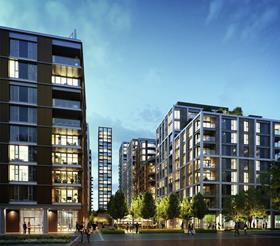 Clarion Housing Group has partnered with St William - a JV between National Grid and the Berkeley Group - to deliver the first affordable homes as part of a regeneration project in Battersea.
They will build 229 homes at St Williams' Prince of Wales Drive scheme in the south west London district and is the first of the proposed redundant brownfield sites to be delivered by St William.
Prince of Wales Drive replaces four decommissioned gasholders and will have 161 homes for shared ownership and 68 for immediate rent, ranging in size from one to three bedroom apartments.
Work on the scheme, which is between Battersea Park and the new town centre being built at Battersea Power Station, is underway, with the first affordable homes expected to be ready by next summer.
It is the first time It is the first time Clarion has worked on a development with either the National Grid or the Berkley Group.
Philip Browne, new business and partnerships director at Clarion, said: "There is an acute shortage in the supply of affordable homes, particularly in the capital, so we are also pleased to be working with St William for the first time to deliver homes for buyers who are struggling to buy outright."