Package of funding will be announced later today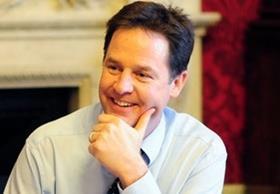 Deputy prime minister Nick Clegg will today announce a £214m package of investment to boost cycling infrastructure.
The investment will include a £114m fund to improve cycling networks and increase safety protestions for cyclists in eight major cities - Bristol, Birmingham, Cambridge, Leeds, Manchester, Newcastle, Norwich and Oxford.
Additionally £100m is being made available to improve conditions for cyclists and walkers across the UK's strategic road network of major roads.
Clegg will announce the funding boost at an event in Bristol, alongside British cycling legend Chris Boardman.
Clegg will say: "I want to bring cycling down from the Alps and onto British streets.
"I'm committed to helping our dream of becoming a cycling nation, similar to places like Denmark and the Netherlands, become a reality.
"The rewards could be massive. Billions of pounds in savings for the NHS, less pollution and congestion, and a happier and safer population. In government, we're putting the money down: now we need the public and local authorities to jump on their bikes and get us to the finish line."