O'Shea formally takes over role and pledges to put occupier "centre stage"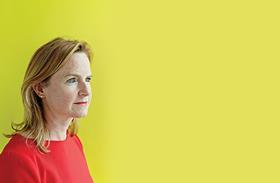 Colette O'Shea has been formally appointed president of the British Council for Offices (BCO).
O'Shea, manaing director of Land Securities' London portfolio, took over the BCO presidency from Neil Thompson yesterday.
O'Shea chaired the annual BCO conference in Birmingham earlier this year and called on the industry to put the occupier "centre stage".
O'Shea said: "My vision as president of the BCO is to challenge the membership to evolve its thinking to see property as a product to breed success for customers, now and for the future.
"Attracting and retaining the best talent is top of the corporate agenda. The brightest minds demand the best working environments, and we need to ensure that creativity, health, wellbeing and happiness are embedded in the buildings we are constructing right from the very start. A great working environment goes beyond just a good location.
"We are responsible for building the office buildings of the future, and as such we need to anticipate what our customers' future needs will be. We have witnessed the advent of technology in the workplace, as businesses realise the need for a real as well as a virtual presence. Our challenge, as an industry, is to anticipate what will come next and ensure that our buildings can help our customers to meet those changes.
"This is a huge opportunity for us and it's an exciting time. We are responsible for creating the environment that ambitious, creative businesses need. If we get this right, they thrive and if they thrive, so do we."
"Colette delivered a fantastic conference in Birmingham for our members, asking people to take the time to explore different ideas. Colette pushed members to think about how they can lead in the design of spaces that encourage happiness, wellness, innovation and success, which is reflective of the goals for her year as BCO President."