Latest forecast from Experian predicts output will remain below pre-pandemic levels this year and next
Construction activity in the commercial and housing sectors is expected to remain below their pre-pandemic levels until 2023, according to the latest predictions from information specialist Experian.
The firm's most recent forecast – finalised in the wake of both the Brexit deal and rapidly rising infection levels caused by the new variant of covid-19 – said private commercial output fell by 21% to just £23bn in 2020 and will lag behind pre-pandemic levels throughout this year and next.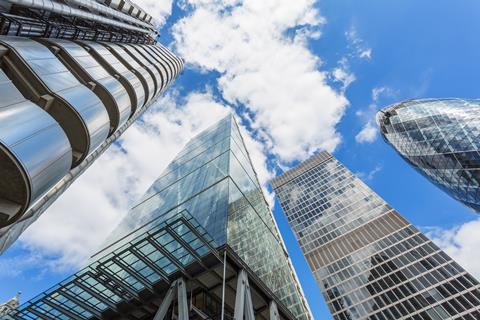 Office, retail and leisure construction is expected to struggle the most, with these sectors hardest hit by lockdown restrictions. This will be compounded by the "significant proportion" of businesses in the hospitality sector that Experian said it did not expect to survive the pandemic.
Meanwhile, housebuilding activity is expected to remain below 2019 levels until 2023 despite the rapid rebound in the housing market, after output dropped by 22% to just over £35bn in 2020.
Experian forecasts that housing output will rise 15% this year, 8% next year and a further 5% in 2023, when it will finally move above the £44.9bn output seen in 2019.
The forecast said the hit to output seen in 2020 has been most severe in the public housing sub-sector, where output has dropped by nearly 30%. This made it the hardest hit of any part of the construction industry.
It said the output in this sector was unlikely to reach the level seen in 2019 even by the end of the forecast period, in 2023, despite double-digit growth this year and next.
But the forecast contains some better news for other construction sectors.
It said infrastructure was likely to be "among the most buoyant" sectors over the next two years, with a pipeline of between £27bn and £37bn coming to the market by this April, according to the government's National Infrastructure and Construction Pipeline.
Roads and railways are expected to see "particularly strong" growth, driven by Highways England's roads investment strategy 2 programme and the build up of work on HS2.
The forecast also predicted that demand for Brexit stockpiling and storage space for online retailing will drive a strong recovery in the construction of warehouses, which overtook factories as the largest industrial construction sub-sector in 2018, a gap which Experian expects will continue to widen.
Experian said recent developments with the new strain of the virus meant it had revised down its forecasts for the strength and rapidity of the recovery for construction overall.
It said: "Despite much talk of a V-shaped recession and recovery, it is looking much more like an elongated tick, with GDP not returning to end 2019 levels until the end of 2022 in real terms, 10 quarters after the sharp losses of Q2 2020."
Overall construction output fell by 17% in 2020, with an estimated UK GDP fall of 11%. The wider sector is predicted to have fully recovered output levels by next year, and to move significantly beyond this in 2023.