Practices report they are struggling to collect fees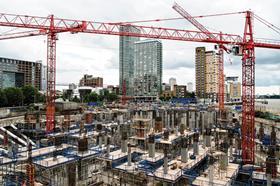 Commercial clients are becoming increasingly reluctant to commission new projects, nervous architects are reporting.
Weakening business confidence is having a knock-on effect for architects working in the sector.
Getting paid is also becoming more challenging, with some practices reporting that they are having to throw money at chasing unpaid invoices.
The latest RIBA Future Trends survey for October shows the forecast for work in the commercial sector fell back slightly to +5 from +7 in September, although not as drastically as the public and community sectors which dropped 8 points into negative territory at -4. Private residential remains the most optimistic field to be working in, remaining unchanged at +18 in October. Nationally the index remained unchanged from September with a balance figure of +17.
"While overall levels of workload again remain steady, there is a weakening in general business confidence that is leading to greater caution among clients in the commercial sector," said Adrian Dobson, the RIBA's executive director for members.
"Practices in this field fear that businesses are commissioning fewer new commercial developments and some practices have also commented that they are having to invest greater resourcing in chasing outstanding fees."
The profession is at its most jittery in London, where confidence levels have yo-yoed over the last three months. After rallying at the start of the autumn with a balance figure of +7 in September, confidence has nosedived into negative territory again with a figure of -4 although this is slightly better than August when the index dropped to -6.
Architects in the Midlands, East Anglia (+50) and the north (+33) are the most upbeat about future workloads.
Nationally, small practices are the least bullish about their pipeline of work. But while large practices (with more than 51 staff) are much more confident, they are also the ones least likely to be hiring over the next few months.