Survey of UK businesses predicts 1.3% growth in the fourth quarter of 2013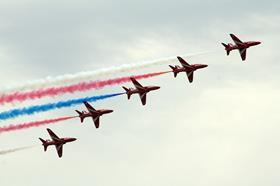 Soaring confidence in growth in the construction sector has propelled the economy to its highest level of optimism in ten years, a survey has found.
The Institute of Chartered Accountants in England and Wales' Business Confidence Monitor has forecast that the economy is set to grow 1.3% in the fourth quarter of 2013.
The confidence score of all UK businesses surveyed was 31.7.
But construction businesses were even more confident, scoring 37.8, the highest level of confidence of any sector of the economy.
Phil Westerman, partner and head of construction at Grant Thornton UK, which sponsored the survey, said: "In Q3 construction was the most confident sector and this quarter it has continued to rise – the story is the same as before, there is definitely a much more positive mood amongst construction businesses.
"It's vital that they capitalise on this – we really do need to start 'building Britain's future' with the thousands of new homes and infrastructure required just the beginning."
Confidence in the construction sector has shot up from -3.9 in the fourth quarter of 2012 to 37.8 in the fourth quarter of 2013.