Construction industry has been the largest drain on the UK economy this year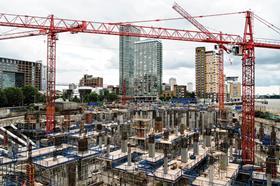 Declining construction activity dragged down the UK's economy at the start of 2018, according to the ONS estimates for GDP in the first quarter of 2018.
According to the latest data the economy grew by just 0.1% in the first three months of the year, the slowest since the fourth quarter of 2012, with construction being the largest downward pull on GDP.
Construction output is estimated to have fallen by 3.3% over the period, with agriculture also having a negative impact on GDP, falling by 1.4%.
By comparison the industrial production sector grew by 0.7%, while the services industry also saw growth, albeit by just 0.3%.
Rebecca Larkin, senior economist at the Construction Products Association, said the drop highlighted the challenges the construction industry has faced since the start of the year.
She said: "This preliminary estimate gives the first full indication of how construction was affected by the liquidation of Carillion in January and the adverse weather at the end of February and beginning of March.
"The quarterly decline of 3.3% implies a £1.3bn loss of output in the opening months of 2018.
"Some degree of catch-up is expected throughout spring and summer, but on the CPA's forecasts, amid continued economic uncertainty and weakness in commercial construction, output for the year is still expected to be flat at best."
Gail Cartmail, assistant general secretary of union Unite, agreed that Carillion's failure had played a big role in the industry's contraction.
Cartmail said: "The storm clouds following Carillion's collapse still hang over the industry. Three months after the companies collapse there still has not been any assessment of the long-term impact on the industry and particularly SMEs as a result of Carillion's collapse."
The preliminary estimate incorporates 45% of total data for the quarter and is subject to revisions.