Bosses of FMB and CECA tell Building what the sector needs
The construction industry is crying out for a secure forward pipeline of work in the wake of covid-19, according to the bosses of two trade bodies.
Speaking as part of Building's webinar, Construction's return to work, Alasdair Reisner, chief executive of the Civil Engineering Contractors Association, said the government's commitment to infrastructure spending had not materialised into forward orders.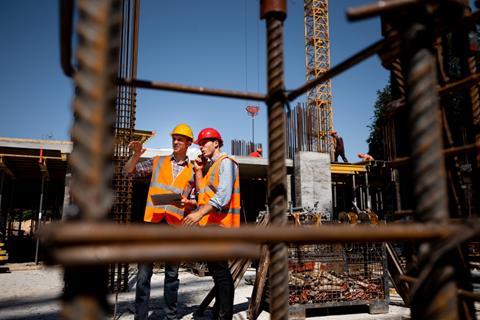 Reisner said: "For most of our members they had some semblance of work going on somewhere throughout the entirety of the period but at low levels.
"While they had work in the hopper going into the crisis, that pipeline workload is drying up fairly rapidly. There is a real challenge about getting enough work for the industry going forward."
> Watch: Coronavirus webinar – Construction's return to work
While he praised the government for its job retention scheme and the scheme's subsequent extension, Reisner said without a firm pipeline of work firms still faced tough decisions when the scheme came to an end. He said a secure order book would also help improve productivity.
He said firms were also facing a challenge in trying to work out how to price covid-19 into their bids.
And Brian Berry, chief executive of the Federation of Master Builders, said it was important the government invests in programmes to retrofit homes and diversify the housing market to increase the stake of SME builders.
Berry is leading on the repair, maintenance and improvement sector of the recovery planning for the Construction Leadership Council.
He said: "It's a great way to get the economy moving if people are upgrading their homes but we need to be looking further than that.
"I will be pushing for an ambitious national retrofit programme to meet the carbon challenge."
The four streams of the recovery plan, which also include housing, infrastructure and commercial, will be considered by the CLC's board on Thursday.
Berry was also critical of the government's failure to provide access to small cash grants early in the pandemic, saying it would have helped his members keep operational.
He said: "Grants would have been very helpful at the [start] because of cash flow issues. Two months on, 96% of my members had stopped work all together."
He said there had been a real issue with accessing grants but that the "bounce back" loans had been appealing to small and medium-sized businesses.
Berry also said there had been a confused picture across the UK with the different messaging on the pandemic in England, Scotland and Wales, which had made it difficult to provide advice for firms.
He also called for the reverse charge VAT to be delayed and suggested that there should be a cut to the amount of VAT paid on repair and maintenance work.
Building's Coronavirus webinar, Construction's return to work, is available free on demand