Figures from the Office for National Statistics show £12.6bn of construction work was ordered over the third quarter of the year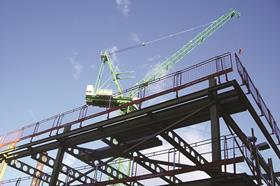 The volume of construction orders grew 5% in the third quarter of 2014, compared with the second quarter, official statistics have revealed.
Numbers from the Office for National Statistics (ONS) published this morning showed the volume of new orders grew to £12.6bn in the third quarter of 2014, up from £12bn the previous quarter.
Year-on-year growth in new orders was a little slower at 3.2%.
Orders for private commercial and private housing work drove the overall increase with growth of 22% and 13% respectively.
However, this was tempered, in part, by declines of 34% in private industrial orders and 36% in public housing orders, the two smallest construction markets.
Construction output figures for the month of October, also released today, showed a 2.2% fall in output to £10bn compared with September.
However, this was still 0.7% up on the level in October 2013, the seventeenth consecutive quarter of year-on-year growth in new orders.
Stefan Friedhoff, global managing director for construction at Lloyds Bank Commercial Banking, said the figures confirmed anecdotal evidence that the market was "cooling slightly" but that they were "unlikely to come as a total surprise".
He added: "Construction companies are grappling with myriad issues, including inflation-led cost overruns, a competitive bidding environment and labour constraints. The shortage of skilled workers is undermining current output levels and, unchecked, it threatens the long-term health of the sector.
"Despite the headwinds companies face, however, the sector itself is still in long-term growth, even if it remains in recovery mode, particularly in the regions outside London and the South East."
Noble Francis, economics director at the Construction Products Association, said it was "good to see" new orders rising and that it gave him confidence the industry would "grow further" in 2015.
He added: "The data highlights, unsurprisingly, that private housing will be the key driver of growth for the industry.
"Orders in private housing were 13% higher than in Q2 and 14% higher than one year ago, which given a lead time of around two quarters suggests that we should see further growth in housing over the next six months."