Latest monthly figure now 1.5% below pre-covid level
Construction output fell again in August as the sector's momentum continues to slide amid labour shortages and rising costs of materials and energy.
Output slipped 0.2% during the month with the level now 1.5% below its pre-covid figure, according to the latest ONS figures.
New work in the month was 3.7% below, or worth nearly £350m less, than the February 2020 pre-pandemic level.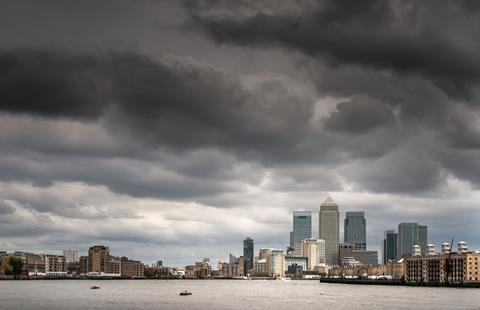 Private commercial work has been the hardest hit, with the sector now some 26.3% lower than it was in February 2020, a drop worth more than £650m.
And output across all sectors fell by a total of 1.2% in the three months to August, the first three-monthly fall since July 2020 with the decline driven by a fall in repair and maintenance of 4.7%.
The private housebuilding sector has seen a particular drop in new work with a decrease of 6.6% over the last three months.
Scape chief executive Mark Robinson said the stats were a "telling loss of momentum across the construction industry" while McBains managing director Clive Docwra said the figures prove that construction is now in a "downward spiral".
The ONS said anecdotal evidence from firms suggested that while many were reporting healthy order books, availability of products was impacting projects currently underway.
It said that rising prices of steel, concrete, timber and glass, along with the difficulty in sourcing these materials for jobs was a contributing factor to the monthly fall.
Docwra added: "New work remains flat, due in large part to a continuing shortage of essential products such as steel, concrete and timber.
"The outlook over the remainder of the year looks ominous too. The triple whammy of continuing supply chain issues, together with a lack of HGV drivers to deliver the materials that are available, means some developments being delayed, and the fuel and energy crisis is also likely to add to project costs."
The latest data on building materials from the Department of Business, Energy and Industrial Strategy showed costs of all materials rising by 2.8% in August compared with the previous month and 23.5% compared with August 2020.
The finance director of regional contractor Fraser Johns said: "This is clearly not just a minor blip and marks a real challenge for the construction industry to overcome.
"A lot has been made of the supply chain issues and subsequent price rises and rightly so. Client confidence has certainly been impacted, with inflationary price pressures and supply shortages at the root of hesitancy to green light projects in the current environment."
Last week, the latest PMI data drawn up by IHS Markit and CIPS said total activity for September stood at 52.6 down from the score of 55.2 the month before and a fall of nearly 14 points from the 66.3 figure recorded in June.