Industry experiences ninth successive three month-on-three month dip, according to ONS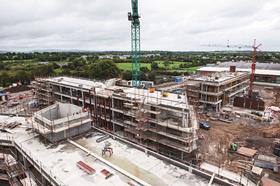 A slump in private commercial work fuelled an overall 1% fall in construction output in the three months-on-three months period in January 2018, according to new data from the Office for National Statistics (ONS).
Revealing data described by one industry observer as "grim", the ONS said the fall was the ninth successive decline in three month-on-three month activity, with private commercial work down by 4.1% in January 2018.
Month-on-month January also saw a fall in activity, down 3.4%, the largest such decline since June 2012, following two months of growth.
Year-on-year figures look even more stark, with January down 3.9%, the biggest such decline since March 2013.
According to the ONS construction output peaked in March 2017, reaching a level that was nearly a third (31%) higher than the lowest point of the last five years, which was January 2013.
"Despite the month-on-month decrease in January 2018, construction output remains 25.6% above this," the ONS added.
The headline figures had "moved from glacial to grim", according to Blane Perrotton, managing director of consultancy Naismiths.
"Such a sustained slowdown can no longer be dismissed as a blip. Housebuilders continue to buck the downward trend, but are powerless to reverse it.
The fall in new orders was "a stark reminder of how Brexit uncertainty is eroding investor appetite", Perrotton said, although the government's planned shake up of the planning rules could help maintain the turnover of new housing projects.
Speaking about the ONS data Michael Thirkettle, chief executive of consultancy McBains said they showed 2018 began as 2017 ended; "a continuation of sluggish output not helped by factors such as ongoing uncertainty over the Brexit deal, reflected by the significant decline in new commercial work and high costs of materials needed to build as a result of a weak pound.
"The fact that this week [Theresa May] challenged the construction industry to build more homes will require a stable economy and a supportive environment that encourages builders to build, otherwise there is absolutely no chance of the government's ambitious housebuilding targets being hit."