Industry sources say Laing O'Rourke would be favourite if club decided on complete rebuild
The first consultants working on the redevelopment of Manchester United's Old Trafford stadium have been announced with Tottenham Hotspur Stadium architect Populous helping draw up the masterplan.
The firm has teamed up with US project manager Legends which is currently working on the redevelopment of Liverpool's Anfield Road stand.
Building also understands that WSP is part of the project team with the club saying "work will begin immediately on developing options for Old Trafford and studying their feasibility, with the aim of significantly enhancing the fan experience".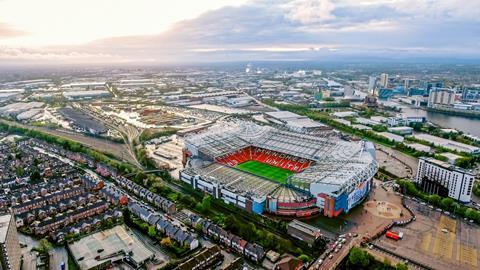 It added: "Fans will be at the heart of the process, starting with a meeting between the consultants and the Manchester United Fans' Advisory Board later this month."
A complete rebuild is the most drastic of three options understood to being considered by the club's hierarchy.
If United decide to rebuild their Old Trafford ground, then Laing O'Rourke is being tipped by industry insiders as the team to beat.
Any rebuild, understood to be being given serious thought by the record Premier League champions, could only be done by a handful of firms – with industry sources suggesting O'Rourke would be the only one prepared to carry out the work under a fixed price.
Other firms that have built stadia in the past few years include Mace which rebuilt Tottenham Hotspur's ground – widely considered to be the benchmark UK stadium – and Sir Robert McAlpine which completed the 2012 Olympic stadium and Arsenal's Emirates stadium six years earlier.
The only other firm which has completed a stadium the size of any rebuild required at Old Trafford is Multiplex which finally completed Wembley stadium in 2007.
One source said: "Multiplex doesn't have a presence in Manchester. It's not likely you'll see them do fixed price stadia in the UK."
Another added: "I would say this [Old Trafford] is a Laing O'Rourke job. They will be 100% the favourites. I think McAlpine would only do it on a construction management. [If it was let as a CM] then Mace would be in the mix too."
McAlpine has a strong regional presence across the North-west but another source said: "I'm not sure about Mace. They're not as strong there as they are in London."
Laing O'Rourke has worked at Old Trafford before, adding 7,900 seats to the capacity by filling in the ground's north-west and north-east corners in the mid-2000s.
O'Rourke is building a new ground for Everton at Bramley Dock in Liverpool with the stadium set to open in time for the start of the 2024/25 season. The firm is also believed to be looking at expanding Leicester City's King Power Stadium by 8,000 seats to bring capacity up to 40,000.
It is understood O'Rourke's chairman and chief executive Ray O'Rourke was closely involved in negotiations with Everton chairman Bill Kenwright over the deal with O'Rourke, who is due to become non-executive chairman this September, likely to be involved in any meetings with United's owners, the Florida-based Glazer family.
Everton's new ground is set to be just under 53,000 and has been designed by US firm Meis Architects along with UK practice Pattern. It is likely to be finished before any work at Old Trafford begins in earnest solving any potential conflicts over which team O'Rourke could put on the job.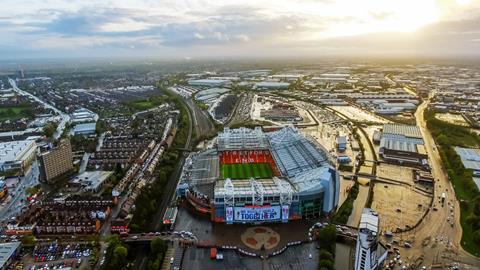 Other options being considered by United include revamping and enlarging the South Stand, also known as the Sir Bobby Charlton Stand. This would bring other potential bidders into the mix including Buckingham, the firm behind the rebuild of Liverpool's Anfield Road end, McLaren, which has completed new training grounds for Leicester City and Spurs, and McLaughlin & Harvey which is completing work on the main athletics stadium that will be used at this summer's Commonwealth Games in Birmingham.
Another option Manchester United is believed to be considering is to leave the stadium structurally intact but conduct a comprehensive revamp of spectator and corporate areas on all four sides.
Any new stadium will put capacity above 80,000 – up from the current 75,000 – while redeveloping the South Stand would take capacity into the 80,000s as well.
While the stadium is one of the best-known in world football, it is also much older than many of United's rivals' grounds, with parts dating back to 1909 when the club first moved in.
One problem with a complete rebuild is where United would play their home games – Tottenham used Wembley stadium – with a groundshare with city rivals Manchester City at the Etihad, also built by Laing O'Rourke, deemed a non-starter. Any temporary stadium is unlikely to have a capacity of more than 30,000.
Meanwhile, architect KSS, the firm behind the Anfield Road stand redevelopment, has been asked to draw up a masterplan for the club's training facilities that will include an expanded, state-of-the-art facility for the men's, women's and academy teams.
Additional reporting Daniel Gayne