Advisor 'shocked' to learn of £800k value engineering talks with future main contractor while OJEU process was still live
Contacts between the management organisation responsible for Grenfell Tower and future refurbishment contractor Rydon were "irregular and improper" at a time when the procurement process was live, a senior consultant on the project has admitted.
Simon Cash, director of cost management at Artelia Projects UK, told the Grenfell Tower Inquiry he was "shocked" and "surprised" by communications between Kensington and Chelsea Tenant Management Organisation and Rydon before the firm was formally selected as preferred bidder for the refurbishment.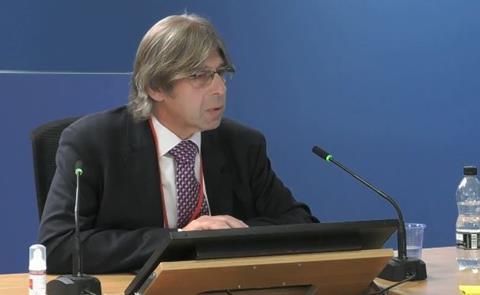 Cash said a 2014 tip-off to Rydon's refurbishment director Stephen Blake noting the firm was "in pole position" to be picked as preferred bidder before interviews with tender teams had even taken place suggested the procurement was compromised and "could have voided the whole process".
He also told the inquiry into 2017's fire, which followed the flawed refurbishment and which claimed 72 lives, that he had been surprised there was a meeting between KCTMO officials and Rydon that discussed ways to shave £800,000 off the firm's £9.2m winning bid before it had even been formally notified it had won the job.
Artelia – earlier known as Appleyards – provided a range of advice and professional services to KCTMO on the Grenfell Tower refurbishment from 2012 until its completion. It also advised the Royal Borough of Kensington and Chelsea on the Kensington Academy and Leisure Centre (KALC) project immediately next to Grenfell Tower, which was designed by architect Studio E.
In his evidence on Tuesday, Cash said he had become aware in 2015 that Rydon's Blake and KCTMO director of assets and regeneration Peter Maddison had known each other for a long time and were having direct conversations that were leaving Artelia "out of the loop". But he said he had no concerns that Maddison or the TMO's impartiality might be compromised.
Leadbitter deselected
Cash, who was Artelia's project manager for Grenfell Tower, said it had been clear as far back as early 2013 that KCTMO could not afford the refurbishment that it had originally envisaged. By May 2013, the organisation had decided that "value for money" on the project should be considered the principal driver, taking precedence over the pace of programme delivery.
Artelia subsequently changed its advice to the TMO that it should retain Leadbitter as principal contractor for the project in favour of a re-procurement. The firm wrote and then re-wrote a report that would go to the TMO board underscoring the approach.
Tuesday's session heard that RBKC director of housing Laura Johnson had effectively lost patience with Leadbitter in relation to cost control issues with the £50m budget for KALC.
The Grenfell and KALC projects were linked from RBKC's perspective and had a combined budget of around £60m. But in early 2013 Johnson, told Leadbitter she did not want the firm working on Grenfell and the TMO was dependent on council funding for the refurbishment.
Cash admitted that he had been "strong-armed" into producing a report to the TMO board that outlined the case for launching a new procurement process for the Grenfell main contractor just weeks after a status report had called for Leadbitter's retention.
He said that KCTMO's Maddison had felt the updated report needed to be more supportive of the TMO's new position and called for a further rewrite.
"Peter Maddison and I had had a particularly strong conversation about the changes that had to be made," he said of the report.
"He was being very persistent and put a lot of pressure on us to make those changes. I was quite resistant because I felt that it was a true reflection of what had happened on the project."
Inquiry barrister Richard Millett QC pointed to an email from Artelia's Robert Powell – employer's agent for the project – who described the report as "political lubrication".
Cash said he did not see it in that way. "I wasn't thinking of it in terms of any other use other than giving a recommendation for taking the project forward," Cash said.
Secret talks with Rydon
Although Cash said he had been surprised that information had been passed to Rydon about its Grenfell tender while the OJEU process was still live, he admitted that KCTMO and Artelia had agreed to have an "offline discussion" with the firm about the need for value-engineering on the project before the OJEU process was complete.
Cash said the move had been intended to make Rydon aware that the successful main contractor would need to make value engineering savings to match KCTMO's budget for the project, without specifics being discussed.
"It was my understanding that the conversation would not make any reference to their position in terms of the tender, that it was purely trying to seek an understanding that they were accepting of the process that would be followed once an award had been made, if they were successful," he said.
Cash conceded that although the decision was made before any of the three final-stage bidders were interviewed as part of the procurement process, it had been a "foregone conclusion" by that stage that Rydon had won because it had scored so highly in the bid evaluations that had already taken place.
Only Rydon was approached for an "offline discussion", which Cash said could also have been described as "secret".
Inquiry chair Sir Martin Moore-Bick asked Cash why the project team did not go through the same process with the other shortlisted bidders, Durkan and Mulalley.
"We probably should have done," he replied. "But the feeling was that they were so far away [on price] that they were never going to be able to close that gap."
Good result – what did they miss?
The inquiry subsequently heard that Cash had remarked "Good result – what did they miss?" in an email to project quantity surveyor Chweechen Lim after she gave him the exact figure for Rydon's winning bid on 17 March 2014.
Millett asked Cash if he believed that the Rydon bid had been unrealistically low. Cash replied that his comment had been a "light-hearted quip".
However Rydon had made an error with its bid that priced it at around £212,000 less than it should have been.
No need for a Client Design Adviser
Earlier in the day, the inquiry heard that Artelia had put together a proposal to provide KCTMO with client design adviser – CDA – services in which a qualified architect would check for design compliance on the Grenfell refurbishment throughout the lifetime of the project.
Artelia had provided a CDA role on the KALC project and suggested a plan for Grenfell that would have cost around £30,000.
"We had proposed the service because we felt that there was a need for somebody to have a responsibility for commenting on the contractor's proposals," Cash said. "At the end of the day, the client took that role on themselves."
Cash said it had not been clear that the TMO had the in-house capacity to take on design scrutiny work. But he said the organisation was considered to be an "educated client".
The inquiry heard that the TMO believed a CDA would "not touch on discrete areas of the project where specialist contractors would have specialist knowledge about their design and the materials used". Cash said a CDA would have looked at all areas of the design.
The inquiry continues.