KCTMO director tells inquiry bending EU procurement rules is 'common'
The regeneration director overseeing Grenfell Tower's refurbishment has told the inquiry into 2017's disaster he had no concerns main contractor Rydon's successful £9.2m bid was "unrealistically low", even after another £800,000 in savings was sought.
Peter Maddison also told the inquiry into the fire, which claimed 72 lives, he was sorry for the "devastating impact" that a project he believed should have been a "straightforward" design and build contract had on so many lives.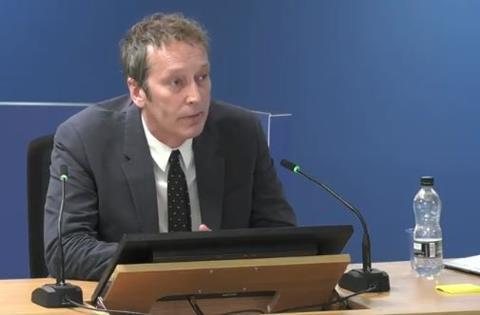 Monday's session of the Grenfell Tower Inquiry heard that a meeting of Kensington and Chelsea Tenant Management Organisation's executive board had questioned whether Rydon had put in an unsustainably low bid in order to win the contract in March 2014. It also heard that the law firm Trowers and Hamlins had broached the same topic in its legal advice to the TMO.
Maddison, who was director of assets and regeneration at KCTMO from 2013 to 2017, said he believed the board had been asking "sensible questions" in relation to the sustainability of Rydon's bid but that it had been evaluated by project cost consultant Artelia, which felt that it was sustainable.
Inquiry lead counsel Richard Millett QC asked Maddison whether he personally had any concerns that Rydon's bid was unrealistically low.
"I didn't," he replied. "We didn't get a large number of bidders in the end, and there was a spread between first and second and then second to third. Artelia carried out an analysis and recommended we go forward, so they didn't flag up any specific issues."
He added: "I took the advice from Artelia. I didn't see anything that suggested to me that this was an artificially low price."
Earlier this month, the inquiry heard that when Artelia director of cost management Simon Cash was told Rydon had bid £9.2m – ahead of Durkan's £9.9m and Mulalley's £10.4m – he responded "good result, what did they miss?" in an email to project QS Chweechen Lim.
Maddison was also asked about the sustainability of the pricing of Rydon's winning bid in relation to the legal advice from Trowers and Hamlins. He said that the fact that Rydon had delivered the project on budget was a sign that the bid price had been correct.
Millett responded: "The fact that the project was delivered on budget is not of great assistance to us, given that we know what happened to the building."
The QC went on to ask how Maddison was able to satisfy himself that even if the £9.2m bid was sustainable, the further savings of £800,000 the TMO went on to seek from the were also realistic.
Maddison said he did not believe Trowers and Hamlins were warning of a problem.
"Our solicitors here are saying: 'Have you thought of this?'," he said. "And the answer is: 'Yes, we have thought of this. The professional team has considered this and it is felt to be a sustainable scheme'."
Secret meeting with Rydon
Maddison was quizzed further about a secret meeting that took place between senior TMO staff and Rydon bosses while the OJEU procurement process for the Grenfell Refurbishment was still live.
He told the inquiry the meeting was necessary to secure Rydon's agreement to the "principle" of making savings on its bid to fit in with KCTMO's £8.4m budget for the project before confirming the firm as preferred main contractor. Maddison said the approach had been driven by the desire to avoid a six-week delay in moving the project forward if Rydon could not be backed as preferred candidate by the KCTMO executive board at its late March 2014 meeting.
Millett suggested that the approach – which went against advice from Trowers and Hamlins – was evidence of the TMO "playing fast and loose" with EU procurement rules.
Maddison said he believed the risks involved with the approach were commercial ones.
"I don't think it's about playing fast and loose, I think it's about trying to work within the rules and assessing risks as appropriate," he said.
"The OJEU rules are complex, and things move within the quite extended time process of the of the procurement. I don't think it's uncommon for clients to have to weigh up these sort of risks in a process that can be challenging."
The meeting between Rydon and KCTMO took place hours before Rydon was formally notified it was the preferred bidder for the Grenfell refurbishment on 18 March 2014.
Millett asked why there was no record of it in the five diaries and eight notebooks Maddison submitted to the inquiry earlier this month.
"Our sight of your dairies and notebooks indicates that you are a thorough and quite prolific taker of notes about what's happening on the Grenfell Tower project and other things within your remit," he said. "There's a yawning gap for the 18th of March, and I wonder why that is."
"I don't agree that I'm a prolific taker of notes," Maddison replied. "What I do is note action points."
Diary questions
When a pile of Maddison's diaries and notebooks was submitted to the inquiry last week, Millett said the former regeneration director and TMO legal advisors Kennedys were "going to have to give clear and convincing explanations" why the items were not disclosed earlier.
On Monday, Maddison said nobody investigating the fire had ever asked him to hand in any documents related to the project.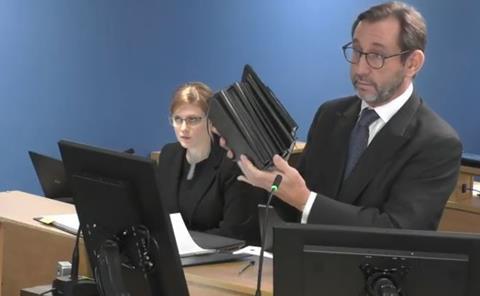 He said he had told TMO solicitors Kennedys about the existence of his notebooks and diaries and had used the notebooks to create an Excel spreadsheet "timeline" that helped the law firm structure his witness statements to the inquiry. The statements, however, did not mention the existence of the books.
Maddison said he had not discussed the fact that he had personal notebooks and diaries relating to the Grenfell refurbishment with the legal firm Devonshires, which had represented KCTMO until September 2017.
He told the inquiry he had asked Kennedys partner Richard Crockford what he should do with his notebooks, and his advice had been that Maddison should keep hold of them.
Maddison said he had not looked at the notebooks and diaries since 2018.
"The thing that triggered me to think of them was when I saw a couple of references when watching witnesses from the TMO, there was some mention of notebooks," he said. "It triggered that thought and I flagged that up to Kennedys and they immediately disclosed them."
At the end of his evidence, Maddison was asked the same question other senior figures involved in the flawed refurbishment of Grenfell Tower are asked: what he would have done differently on the project in hindsight.
"Knowing what I know now, there's no way that we would have ever clad that building with anything that was flammable," he said.
"This was a traditional design and build contract that seemed very straightforward and very ordinary in many ways.
"That it's ended up in this tragedy, it's just devastating. I'm so sorry for the impact that's had on so many people's lives."
The inquiry continues.