Network Rail was biggest spending client during the month, according to Glenigan data
Clients handed out nearly £4.4bn worth of work in September - a decrease of almost £1.5bn from the previous month, according to the latest data from Glenigan.
The figures (see below) reveal that the most work was awarded in the commercial sector, with firms in this section of the industry agreeing deals worth just under £1.13bn – or around 26% of all work awarded in the month.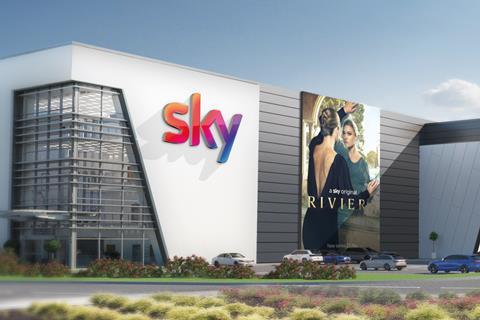 The top clients were Legal & General and Sky UK, who have formed a joint venture to build the new £230m Sky studio in Elstree, Hertfordshire.
The contract awarded to Bam for the scheme was the highest-value contract award in the month across all sectors.
The next most prolific sector was private housing. Clients in this sector awarded firms £583.9m of work.
This was followed by those in the social housing sector, at £528m, and clients working in civil infrastructure, at £495m.
Network Rail was the top-spending client across all sectors, handing out six contracts worth a total of £232.2m, just ahead of the Legal & General and Sky UK joint venture.
Top contract awards - September 2020
Sky Studios Elstree, Hertfordshire - £230m
Sky UK and Legal & General have appointed Bam as the main contractor to deliver the new £230 million Sky Studios Elstree in Hertfordshire. Construction on the new 60,000 sqm film studios, which will feature 14 sound stages, is anticipated to start in 2021 and last for three years.
East Coast Main Line, phase two - £215m
Network Rail has awarded both VolkerRail and J Murphy & Sons a £215m share in the £780m East Coast Main Line power upgrade. The contract is set to last 24 months with a start date yet to be established
2 Finsbury Avenue, London - £187.4m
British Land has awarded Sir Robert McAlpine the main contract to construct a new office-led mixed development in the City, comprising a 12-storey podium supporting two towers of approximately 37 and 23 storeys in height. Planning is expected to be submitted in the next few weeks, with a start date yet to be determined.
New Manchester Arena - £150m
Bam has been awarded the main contract by City Football Group and Oak View Group to construct a new £150m, 23,500-capacity arena next to the Ethiad Stadium in Manchester. The scheme is set to last for three years, with works due to commence in November.
Charterhouse Place, London - £140m
Helical Bar and Ashby Capital have appointed Mace to construct an 11-storey office building comprising four retail units at ground floor level. Works are due to commence on-site in late autumn, with the scheme set to last 22 months.
Meanwhile, the data has also revealed that £9.48bn worth of projects were approved in September, up from £5.7bn of projects in August.
The private housing sector was the market with the most approvals, securing permission for 366 schemes worth nearly £4.5bn.
In private housing, Persimmon secured approval for the most schemes (11), followed by Taylor Wimpey (seven). Redrow and Bellway each got approval to push ahead with four projects. This does not include projects that are being developed as joint ventures.
After private residential, commercial clients achieved the second-highest value of approvals at £1.68bn.
Top spending clients - September 2020
The tables below show contract awards by sector for August put together by Glenigan. They are just a small part of the client information that is accessible through the Building Boardroom Network.
The Building Boardroom Network is an easy to use portal where you will be able to access a wide range of vital business insight including research and tools to help bring your construction clients to life. Find out more at: https://www.building.co.uk/building-boardroom/

Social housing
| Ultimate company name | Total number of projects | Total value of projects |
| --- | --- | --- |
| London Borough of Hammersmith & Fulham | 2 | £42.25m |
| Home Group | 1 | £37.45m |
| Clarion Housing Group | 1 | £36m |
| Bricks Birmingham Capital | 1 | £30m |
| Rochdale Metropolitan Borough Council | 1 | £30m |
Retail
| Ultimate company name | Total number of projects | Total value of projects |
| --- | --- | --- |
| Asda | 4 | £7.9m |
| Co-operative Group | 10 | £6.99m |
| Aldi | 3 | £6.05m |
| Lidl UK/Wesfarmers | 1 | £5.89m |
| Castlebawn/Killultagh Estates/Lidl UK | 1 | £5.5m |
Private housing
| Ultimate company name | Total number of projects | Total value of projects |
| --- | --- | --- |
| Native Land | 1 | £180m |
| Metropolitan Housing Partnership | 1 | £80m |
| Clarion Housing Group | 1 | £25m |
| Alliance Leisure Services/Sevenoaks District Council | 1 | £20m |
| RER London/UKI | 1 | £20m |
Offices
| Ultimate company name | Total number of projects | Total value of projects |
| --- | --- | --- |
| Legal & General/Sky UK | 1 | £230m |
| British Land | 2 | £195.41m |
| Ashby Capital/Helical Bar | 1 | £140m |
| British Telecom Group | 1 | £63m |
| Schroder Exempt Property Unit Trust/Stanhope | 1 | £49.342m |
Medical & scientific
| Ultimate company name | Total number of projects | Total value of projects |
| --- | --- | --- |
| Department of Health | 28 | £162.4m |
| The James Hutton Institute | 1 | £62m |
| Department of Health/Kings College London | 1 | £19.5m |
| Hamberley Development | 2 | £14.8m |
| Graham Care Ltd | 1 | £10m |
Industrial
| Ultimate company name | Total number of projects | Total value of projects |
| --- | --- | --- |
| Segro | 1 | £50m |
| ABZ Development | 1 | £30m |
| CBRE Global Investors | 1 | £26.63m |
| Total Developments | 1 | £24.12m |
| Mountpark Logistics | 1 | £20m |
Hotel & leisure
| Ultimate company name | Total number of projects | Total value of projects |
| --- | --- | --- |
| City Football Group/Oak View Group | 1 | £150m |
| Olympus Property Holding Limited | 1 | £31.07m |
| Queensberry Real Estate/Sheffield City Council | 1 | £29m |
| Northumberland County Council | 2 | £21.25m |
| The Quintin Hogg Trust | 1 | £10m |
Education
| Ultimate company name | Total number of projects | Total value of projects |
| --- | --- | --- |
| University of Birmingham | 2 | £ 42.60 |
| Department for Education | 5 | £ 38.20 |
| Essex County Council/Helena Romanes School | 1 | £ 30.00 |
| Manchester City Council | 1 | £20m |
| East Riding of Yorkshire Council | 1 | £16m |
Civil (infrastructure)
| Ultimate company name | Total number of projects | Total value of projects |
| --- | --- | --- |
| Network Rail | 6 | £232.15m |
| SHE Transmission Plc/Statoil | 1 | £80m |
| CityFibre Holdings | 1 | £24m |
| Greater London Authority | 1 | £22m |
| Department of Health | 4 | £18.084m |

* private housing awards data refers to external contracts only and does not include frameworks
** projects awarded by a joint venture are listed independently to both single party clients