Contractor appointed to 33 Charterhouse Street scheme two months after new finance was secured
Mace has been appointed by Helical and Ashby Capital to build an office development in Farringdon that has been on hold since the start of lockdown.
The project, at 33 Charterhouse Street, is the third Mace has worked on with Helical and follows the recent completion of the Kaleidoscope, a commercial building above Crossrail's Farringdon East station.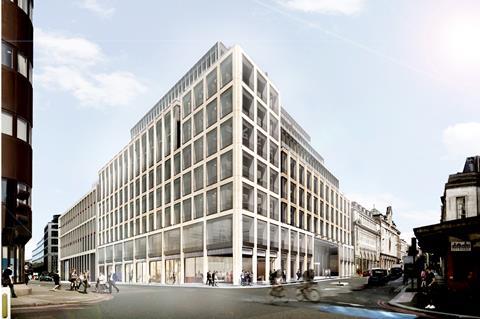 Mace also built Helical and Ashby Capital's One Bartholomew Close offices.
Located adjacent to Farringdon Station, opposite the future Museum of London, the 200,000ft2 Charterhouse Street scheme has been designed by Lifschutz Davidson Sandilands.
Helical and Ashby Capital acquired the project, which is expected to complete in September 2022, from Nuveen Real Estate in May last year.
The pair secured a £140m facility to finance the development from Allianz in July.
The appointment of Mace is another sign of confidence in the capital's office market. Yesterday, British Land unveiled designs for its new office tower at 2 Finsbury Avenue at Broadgate.
The project, which will be Danish architect 3XN's first project in London, will be built by Sir Robert McAlpine.
Keltbray carried out demolition work on the site.
The developer is planning on submitting the plans in the autumn.