Scheme designed by O'Donnell + Tuomey
Contractors are being readied for a £40m (€50m) job at Technological University Dublin.
The university is looking to shortlist five main contractors for the job, which will involve building an academic hub and library.
The library and student support centre, which has been designed by O'Donnell + Tuomey, will sit at the heart of the new campus, which is being developed in Grangegorman in the city's north.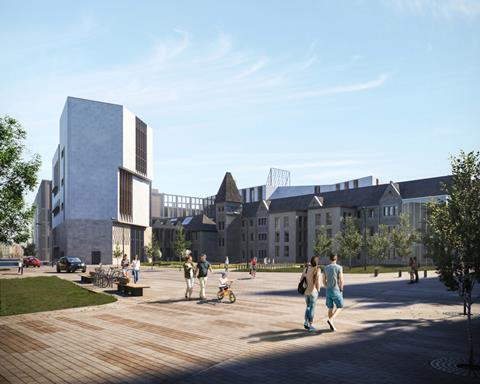 The project will also include the demolition of existing buildings.
The facility is expected to be completed in 2022.
The university is also looking to create shortlists for a number of specialist packages on the job.
It is procuring a €2m (£1.7m) stone cladding role, a €8m (£6.8m) glazing and curtain walling package and a €5m (£4.3m) mechanical services deal.
There is also a €7m (£6m) electrical services package and €1.3m (£1.1m) lift and transport services contract up for grabs.
Firms have until 23 December to register their interest in all the packages, with shortlisted bidders due to be notified in the first week of April.
TU Dublin is Ireland's first technological university and was set up earlier this year.