IBM building makeover and new Moorfields Eye Hospital among jobs to be OK'd
Contractors have been put on alert after a slew of high-profile jobs in the capital were all granted planning this week.
On Tuesday, planners at Lambeth OK'd AHMM's revised plans to upgrade Denys Lasdun's IBM building on London's South Bank.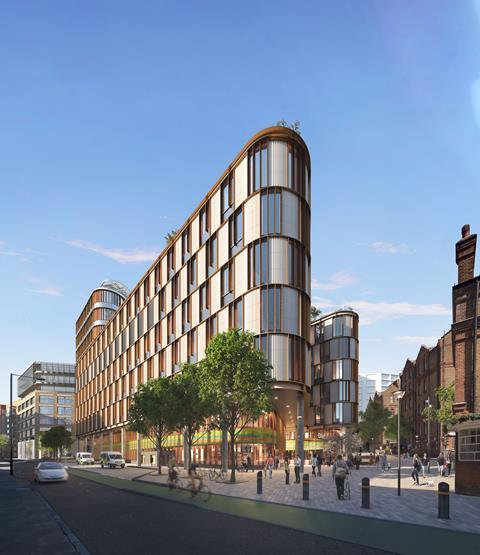 The practice's original proposals for the office complex, completed in 1983, were floated early last year and envisaged the creation of an extra 20,000sq m of space through the addition of two new storeys.
But the scheme for Wolfe Commercial Properties Southbank – owned by the United Arab Emirates-based Easa Saleh Al Gurg Group – was drawn up before the building was given a grade II listing last year, in part for its "architectural concordance" with the neighbouring National Theatre, also designed by Lasdun.
Post-listing changes to the scheme failed to win the support of campaign group the Twentieth Century Society and AHMM put out new proposals which Wolfe says will "sensitively restore and upgrade the building".
The proposals cut the amount of new space set to be created at the building down to 11,000sq m, which Wolfe said would support 950 new jobs – down from the 2,000 mooted in last year's plans.
Stanhope is development manager on the project and is understood to be still deciding whether to let the job as a design and build contract or a construction management deal.
Contractors that have been linked with the deal include Mace and Sir Robert McAlpine while demolition and groundworks firms Keltbray and McGee have been sounded out about working there.
Consultants working on the scheme include QS Exigere, Heyne Tillett Steel as structural engineer and Watkins Payne as M&E engineer.
IBM will begin moving staff out of the Brutalist landmark later this year for new offices at the nearby Shell Centre with UK and Ireland general manager Sreeram Visvanathan promising in a LinkedIn post to return when work is completed.
Meanwhile, Camden council has resolved to grant the new £250m Moorfields Eye Hospital in north London planning with its decision due to subject to approval from the Greater London Authority.
Building understands Mace and Bouygues are the firms still left in the race for the job which is planned for the St Pancras Hospital site in Camden – although it is understood the procurement process has been delayed until later this year.
Work will involve knocking down seven buildings at the current site, including a kitchen, post room and former mortuary, and replacing it with a part seven and part 10-storey building covering nearly 46,500 sq m.
The new building will feature an eye care accident and emergency department, outpatients, operating theatres, research areas, education space, cafe and retail areas, admin space and plant space.
The proposals were submitted by Moorfields Eye Hospital NHS Foundation Trust to Camden planners last November.
The new Moorfields development, called Oriel, is a joint initiative between Moorfields Eye Hospital NHS Foundation Trust, UCL Institute of Ophthalmology (IoO) and the Moorfields Eye Charity.
It will see Moorfields and UCL IoO services move from City Road in Islington to a purpose-built centre in Camden's Knowledge Quarter.
The design team is made up of lead designer and project manager Aecom with lead architect Penoyre & Prasad, now owned by Perkins and Will, and interior and landscape architect White Arkitekter. Others working on the scheme include QS Gardiner & Theobald, heritage consultant KM Heritage and planning consultant Montagu Evans.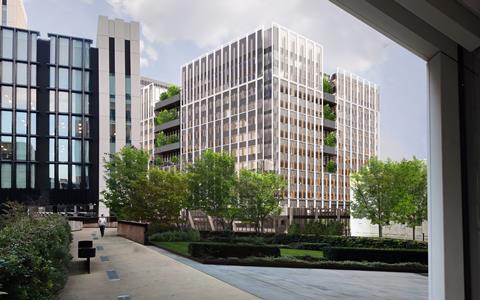 And City of London planners have given the green light to a 13-storey office scheme in the shadow of the Guildhall by Allies & Morrison for Great Portland Estates.
Work will involve demolishing the existing building at 55 Basinghall Street, also known as City Place House, and part demolishing 40 Basinghall Street. There will also be some work required at the grade II-listed 65 Basinghall Street.
Others working on the scheme, which could start as early a next year, are QS Gardiner & Theobald, project manager Cogent and structural engineer Arup.