Balfour Beatty and Brookfield top list of five firms picked by developer Essential Living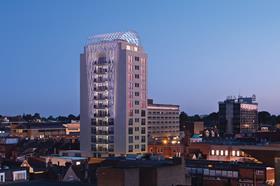 Five contractors have won a place on a framework to deliver 5,000 homes for rental developer Essential Living worth up to £1bn over the next eight years.
Contractors Balfour Beatty and Brookfield have got prime spots on the framework, and will be able to tender for any jobs over £25m in value, including the 345-home Helix Project in Canary Wharf, thought likely to top £60m.
Contractors Vinci and McLaren have been chosen on the framework for schemes worth between £10m and £60m. Meanwhile Prime Construction, a division of the Elliott Thomas Group, has been picked for projects worth less than £10m. Prime has already been awarded its first contract, a job to convert the existing Berkshire House office block in Maidenhead into 68 flats.
Essential Living, which is backed by US pension fund manager M3 Capital Partners, is over a year into a 10-year programme to build 5,000 homes for private rent in London and the South-east, recently commencing work on its first developments.
Bidders to the firm's construction framework, which was overseen by EC Harris, had been asked to submit proposals against sample schemes in Essential's development pipeline outlining their approach along with their expectations in terms of profit margin, overhead and preliminaries.
Ray Theakston, Essential Living construction director, said the proposals submitted were "absolutely excellent" and "reflected the quality of the UK construction industry."
The framework will see contractors put in initial bids to projects as they come forward before being selected for pre-construction work. During this period a final price will be agreed once the design has been worked up.