Latest CPA survey find construction firms facing rising costs and skills shortages as industry recovers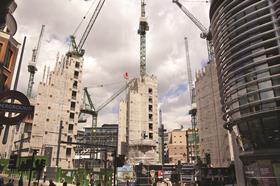 Construction firms are facing rising costs and skill shortages as all areas of the industry experienced growth in the second quarter of 2014, a survey has found.
The Construction Products Association's (CPA) latest State of Trade survey found that all sectors of the construction industry experienced growth in output in the second quarter.
The survey, which measures the balance of positive responses against negative, found a balance 41% of firms reported a rise in private sector housing work; output in the commercial sector rose for 37% of firms; and 48% of firms reported a rise in civil engineering work.
The survey also found that costs continued to rise with 80% of building contractors reporting that costs were higher than a year ago.
It found that 95% of contractors reported that material costs were higher than a year ago and 75% reported that labour costs had risen over the last year.
Noble Francis, economics director at the CPA, said: "Tender prices rose in Q2. Many major contractors are still working on projects won in 2013 at relatively low prices but have been suffering from the key concerns of rising costs and skills availability, especially in specific sectors such as private new housing."
Richard Beresford, chief executive of the National Federation of Builders, said the figures showed the "fragility" of the recovery.
He said: "Longer term institutional investment and more easily accessible finance options for the industry would go some way to securing stable, sustainable growth."
Stephen Ratcliffe, director of the UK Contractors Group, said the results showed "mixed signals" and demonstrated that was "some way to go before a full recovery in the sector".
Meanwhile, a separate survey by the Civil Engineering Contractors Association revealed firms were investing in apprentices to try and bridge the skills gap in the industry.
It found 40% of its members had employed apprentices in the last 12 months, compared with 19% across the whole construction industry.
Alasdair Reisner, chief executive of CECA, said that without new entrants the industry would "face a substantial construction skills shortage over the next decade".
He added: "This is why CECA has called on the government to prioritise working with industry and education leaders to promote a positive message about careers in the infrastructure sector. "We need to ensure all children of primary and secondary age, and their teachers, parents and carers, are well informed about the wide variety of challenging, dynamic and exciting job opportunities available in our sector."