Final bill for cross-London rail link will be £15.4bn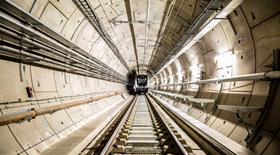 Crossrail is now expected to cost £15.4bn to complete, £600m more than 12 months ago.
An annual update on Crossrail from transport minister Jo Johnson said the Department for Transport (DfT) and Transport for London (TfL) had agreed to the new £15.4bn funding figure. Last year the figure was expected to be £14.8bn.
The extra £600m is being provided to both Crossrail and Network Rail. Of this £300m will go to Crossrail, with DfT and TfL each set to contribute £150m.
Around £290m is being provided for completion of the programme of works on the national rail network, and is being funded by the Department for Transport and Network Rail.
Twelve months ago then transport minister Paul Maynard said: "Cost pressures are increasing across the project and Crossrail Ltd is identifying and implementing initiatives to deliver cost efficiencies until completion in 2019."
The anticipated cost of the project was previously estimated at £15.9bn in 2007 and increased to £17.8bn in 2009. The project was revised to bring down costs following a review in 2010.
Earlier this month the Infrastructure and Projects Authority released a report which said Crossrail was looking at a cost or schedule overrun if "significant issues" were not addressed.
In its 2018 Annual Report, the IPA gave Crossrail an amber delivery confidence assessment - the first time the project has received a rating below a green category in the report's six year existence.
According to the IPA, an amber rating means "successful delivery appears feasible but significant issues already exist, requiring management attention. These appear resolvable at this stage and, if addressed promptly, should not present a cost/schedule overrun".