Council said the £40m proposals would have a 'detrimental impact on visual amenity'
Corstorphine & Wright's proposals to build a 28-storey student accommodation tower in Manchester have been refused after the council said it included "poor-quality cladding material".
The 550-bedroom scheme for developer Fusion Students would have also included a gym, cinema, karaoke room and study spaces.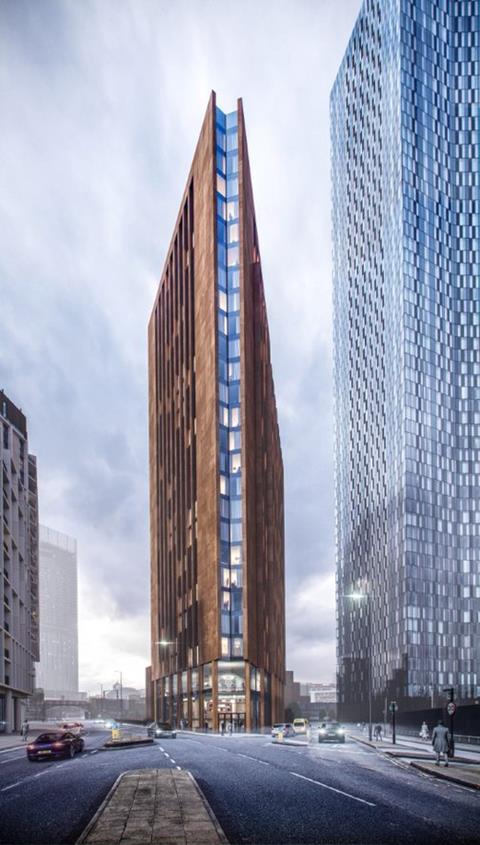 While the council's planning report did not question the safety of the cladding material proposed for the tower, which would have been built close to Simpson Haugh & Partners' Deansgate Square towers, it said that the panels would have a "detrimental impact on visual amenity".
It added that the aluminium panels were "not considered to be a high quality material but as a material trying to mimic a high quality material" and would result in a building "lacking in a quality finish and appearance".
The report said the height, scale and massing of the tower would be "over-obtrusive" on the surrounding street scene, which is home to a number of Grade II-listed buildings including the Artingstall's Chapel and the former Bridgewater Canal Offices.
The report also said the scheme failed to demonstrate the need for another student accommodation scheme in the city, which is home to nearly 100,000 students, and was not in close proximity to any nearby campus or high frequency public transport routes.
Warren Rosenberg, Fusion Students co-founder, said the firm was "proud to have brought forward a scheme that would give students looking to study in Manchester a more modern, safe and affordable choice to live in".
He added: "We are disappointed with the decision and we now await the formal notice from Manchester City Council before we decide how to progress."
The same planning meeting, the council's first since last month's local elections, saw the approval of AHR's 1,200 home Gasworks New Town scheme and Sheppard Robson's redevelopment of the city's former House of Fraser store into office and retail space.
Corstophine & Wright directed requests for comment to the client Fusion Students.