Funders taking second look at schemes 'amid concerns over future viability'
Morgan Sindall has said several regeneration projects have been delayed, with investors spooked by the future impact of coronavirus on the sector.
In a trading update to the City this morning, the firm said the future of a number of schemes was up in the air as it revealed it had been forced to furlough 1,700 staff – 700 more than initially reported.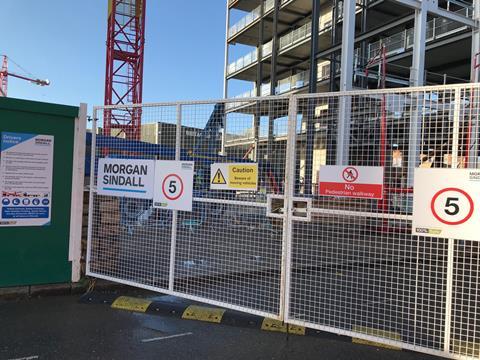 It said: "A number of urban regeneration's new schemes and developments have been delayed, with potential forward-funders of schemes re-evaluating their positions amid concerns over future viability and returns.
"In addition, progress on existing development schemes already on site has slowed thereby impacting the future expected returns generated."
Morgan Sindall also said many of the schemes within its investments' joint venture partnerships and later living business had also delays to work starting.
In construction, it said 80% of its sites are currently operational but were being impacted by lower levels of productivity, in part because of the limited availability of materials.
It said many of its housing sites were now reopening but sales offices remain closed.
Infrastructure has been able to maintain a reasonable level of activity following an initial period of reassessment of safety procedures which closed several its sites.
But it said it aviation business, based at Heathrow, had been hit by "a significant and immediate reduction in all current and future planned activity".
The company said its fit-out business has maintained a moderate level of project activity through April with a gradual increase in site openings in the latter part of the month but the availability of certain specialist materials and skills had impacted project progress.
Given the ongoing uncertainties, the board said it was still unable to reinstate financial guidance.
The group has taken advantage of permissions to defer VAT, PAYE and other tax payments which total £47m to date.
Net cash at 5 May stood at £174m while the firm has committed bank facilities of £180m. It has also been told it is eligible for the Bank of England's Covid Corporate Financing Facility although the firm said it did not expect to have to use it.